The following article provides step by step instruction regarding how to properly set up a new Project once it's been Created. Only proceed with the instructions below if your Project's Production Info is complete and you've confirmed with your Company Admin that any Custom Forms needed for this Project have been built within Company Library.
Step 1. Decide what types of Startwork you will need
From your New Project's dashboard, click "Startwork Templates." This will take you to Startwork Templates.
Under the "Standard Packets" tab, you will see a list of the types of Packets that can be automatically matched ("auto-distroed") to employees.

NOTE: "Special Packets" are TiM packets that are not auto-matched to employees. Typically, Special Packets are built to distribute a unique set of forms, ie: a set of forms different than those included in Standard Packets.
Types of Standard Packets include:
Union
Non-Union
Union Loan-Out
Non-Union Loan-Out
NOTE: Within a Project, an employee will be auto-matched to Standard Packets based on the selections made by production within the "Crewmember/Startwork Type" area of the Employee Invite. The employee will receive whatever Startwork has been inserted into the corresponding Standard Packet type.
For example: If you insert Non-Union forms into the Union packet template, Union employees will receive those Non-Union forms.
(What happens when no Standard Packet type is ready for an invited employee? See Step 5 below.)
Step 2. Build your packets
Click "Create" to build a packet type. This will take you to the Builder.
At the top left of the Builder, under "Packet Name," you will see that your Packet has already been named. You cannot apply a custom name to a Standard Packet at the Project level.
Move down to the "Insert Form(s)" area. From the first dropdown menu, choose the category "[Your Company] Packets."
STOP. If you do not see Company packets listed, contact your Company Admin or go to your Company Library and build your packet there first! Once packets are built and Published at the Company level, they are available for use at the Project level. 
From the second dropdown menu, choose the type of packet that you'd like to insert here. Remember: TiM will automatically distribute this packet to the corresponding type of employees.

Click "Insert." You will see the pages of a fully built packet populate in the Builder, with all Tags and Viewing Permissions that were pre-set at the Company level.
If necessary, you may insert additional forms that pertain to this Project only (we do not recommend building forms at the Project level. It is best practice to build Forms within Company Library). Be certain you will only need to use these Forms for this Project because when you build forms at the Project level, they cannot be shared with other Projects and cannot be copied to the Company level.
Double check that all necessary forms, Tags, Viewing Permissions, Smart Fields, and Signature Fields are correct and accounted for in this packet before you Distribute it / make it available to employees.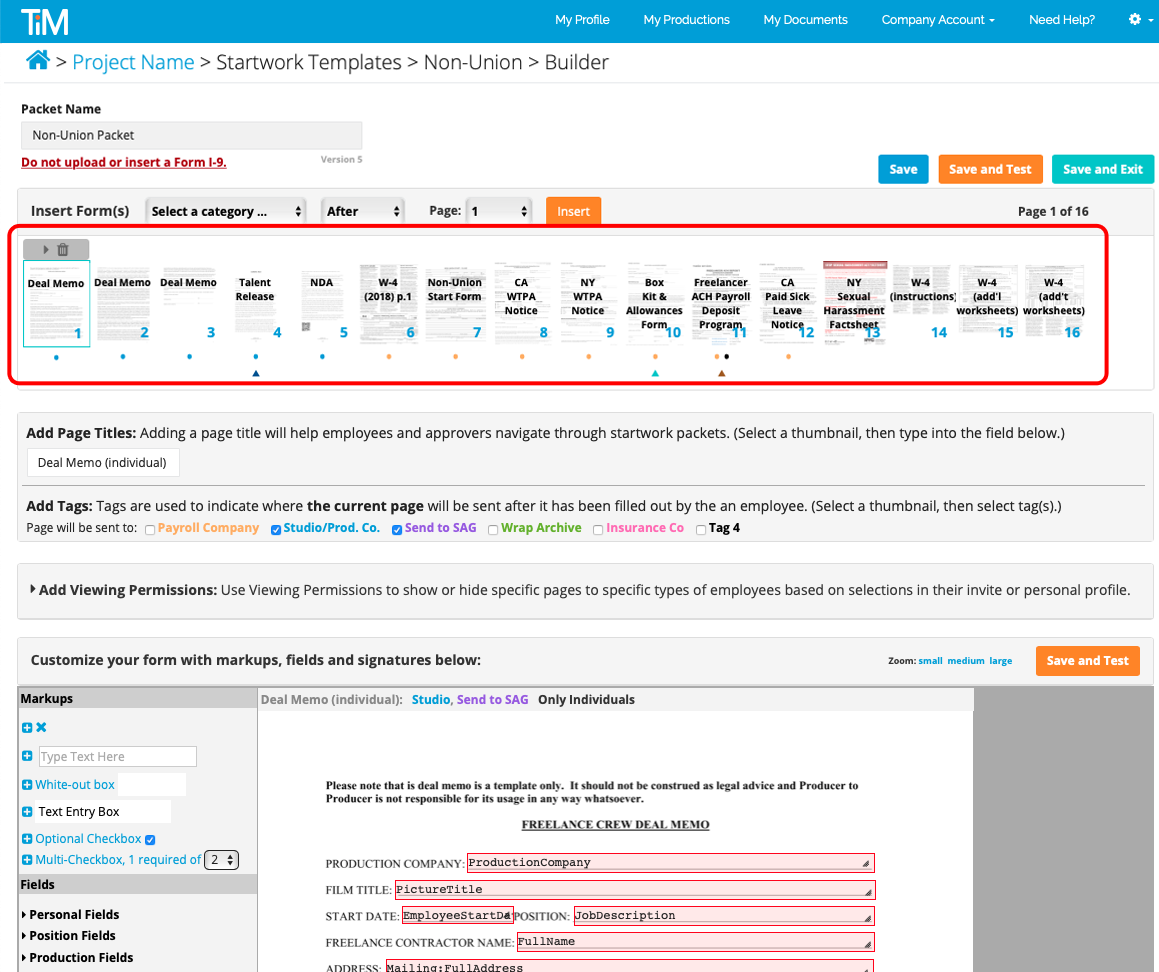 Click "Save and Test" at the top right of the screen to save and preview your packet and its logic (Viewing Permissions, required/optional Fields, etc.).
Or, click "Save and Exit" at the top right of the screen to save your packet and be sent back to Startwork Templates.
Step 3. Distribute the Packets
On the Startwork Type screen, click the orange "Distribute" button to make this Packet available to be auto-matched to employees.
You will know your packet is distributed because the Packet will be highlighted in blue, and next to the Packet Name will appear "Distributed [date]."
NOTE: Packets that are not Distributed will not be available to auto-match to employees. If an employee is invited, but their Packet type is not Distributed yet, they will see a note in their TiM Account that reads "Your Startwork packet type has not been built or published yet". Once the packet is Distributed, employees will receive an email notification that says "Your Startwork is now ready to be completed!"
Step 4. Set up the Rate Guide (optional)
From your Project dashboard, click "Rate Guide". 

You can set up a Rate Guide at the Company level by clicking "Company Settings"> "Company Rate Guide".

Enter rate/employment information for each job description you will hire.
If a Rate Guide is set up, as soon as a department and position is selected on the Employee Invite, a default rate and hire type will pre-fill. This is helpful if you would like to delegate the task of inviting employees to other people like Department Heads, for example, or just to streamline your process as you send out Invites.
Step 5. Invite employees!  
From your Project dashboard, click "Crew Management". 
At the top of the screen, click "Invite Crewmember.". This will take you to the Employee Invite.
Select or enter all the Employment Details for this employee.
For more detailed instructions on how to complete an Employee Invite, see: How to invite employees to complete Startwork

The employee will receive an email notification letting them know they have been invited to a production and their Startwork is ready for them to complete!
Pro Tips:
You can track the status of Employee Invites and Startwork from Crew Management.
You can approve Startwork and send Startwork to payroll from the Approval Pipeline.