Note for Media Services and Cast & Crew payroll clients: Employees should go to My Cast & Crew to register, activate, and update their direct deposit instead of submitting direct deposit forms via TiM.
To change your bank information, please reach out to your Production Contact and ask them how you should go about updating your direct deposit information.
Production can send you a direct deposit form via TiM (you can link them to this article for instructions).
Once this form is shared with you, you will receive an email notification that looks like this: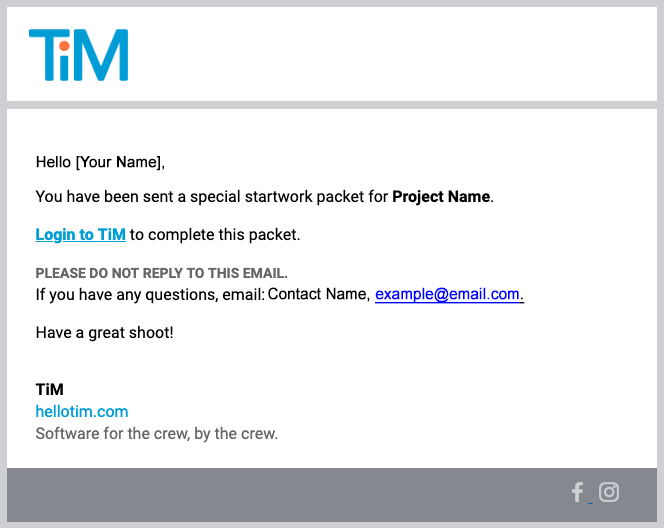 Click the link in the email or go directly to hellotim.com and log in to your TiM Account.
You will be prompted to enter you Social Security Number.*
*You are asked to enter your Social Security Number every time you submit Startwork in TiM, because sensitive information is not stored long-term in TiM for security purposes.
Select the checkbox next to "I would like to fill out the Direct Deposit form in this packet" to reveal a drop down.
Enter your Bank Account information.
Be sure to have your Bank Information on hand - you will need your Bank Name, Account Number, Routing Number, and Account Type in order to submit a Direct Deposit form.
Once the Bank info is entered, click "Continue to Startwork."
Confirm all information on the form is correct. If you need to change the information, use your browser's back button to return to the entry screen.
Once you have confirmed the form is completed properly, click "Sign all pages & Submit."
NOTE: Completing a direct deposit form does not automatically update your bank information. If you have any questions or do not see your deposit in your bank account, contact production or the payroll company. TiM is a platform used to distribute digital Startwork; we are not the payroll company nor do we have any involvement with processing payroll.