NOTE: Currently in TiM, changes made at the Company level do not auto-sync with Project-level Templates.
If you want to apply a change Company-wide, the edit will need to be made first within each Template in your Company Library and then within each Startwork Template for each active Project.
The Work State(s) Viewing Permission allows pages of a Startwork Template to show or hide based on the Work State(s) indicated for the employee.
The Work State(s) Viewing Permission is controlled from Employment Details, by the Work State(s) selection made by production / an Inviter.
"Work States" refer to the states the employee is actually performing work.* For example, even if the production office and main stages are located in New York City, if a production shoots in New Jersey, anyone working on location in New Jersey should have "NJ" listed as a Work State. Employees who perform work both in New York and New Jersey should have both "NY" and "NJ" listed as Work States.
"Work State" is not the same as "State of Residence".
* NOTE: The TiM team are not legal experts or payroll representatives. Any state regulatory information we provide is to our knowledge and should be confirmed with a professional.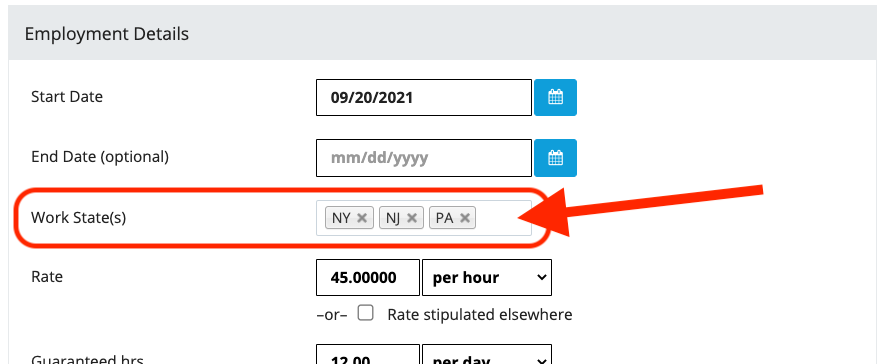 In the Builder, a user can select which states they want to show or hide selected pages from via the typeahead entry point. Multiple states can be indicated if necessary:

How to apply Work State Viewing Permissions within your Templates:
NOTE: Best practice in TiM is to keep your Company-level Templates up-to-date! If you are editing Templates at the Project level, be sure to also edit the Templates within your Company Library, so that those changes are ready to go when you create your next Project in TiM.
If you'd like a lesson on how to update your packet Templates to utilize Work State Viewing Permissions, click here to schedule time with a TiM Specialist.
Go to Startwork Templates / Company Library.


Click "+ Create a New Version" (or "Edit," if your packet is not Published) next to the Template you want to edit.


Select the page thumbnail(s) within the Template that are specific to one work state.

Pro Tip: holding down shift while clicking the thumbnails allows you to select multiple consecutive pages. You can select non-consecutive pages by clicking + holding down control.



Select "Add Viewing Permissions" to expand the options.


Next to "Work State," select "only share this page with" or "hide this page from." Then, select the relevant state from the drop down selection on the right.

Pro Tip: You will know that the Viewing Permission has been applied because a purple triangle will appear beneath the page.



Repeat for each work state you want to apply Viewing Permissions for.


Click "Save and Test" to preview your packet. Or, click "Save and Exit" to return to Startwork Templates / Company Library.


Click "Publish" or "Distribute" to finalize the changes made to your Template. Changes will be reflected on Startwork submitted going forward.
NOTE: If your workflow has been to have multiple state-specific Special Packets, you can retire that system! Go ahead and insert all of those state-specific forms into your Standard Packets, and apply the Work State Viewing Permissions, and TiM will filter those packets to include only the forms the employee needs to receive. This will streamline things for you going forward.