Removing an employee from a production blocks the employee's access to the Project within TiM.
Removing an employee does not delete the employee's record from a Project, nor does it allow you to send the employee another Invite.
Once an employee's Startwork has been Fully Approved, even if the employee is removed from a production, their Fully Approved packet remains on record within that Project. There is no way to delete or digitally 'shred' Fully Approved Startwork for any employee within TiM.
The only way to completely clear an employee's record is to delete their Invite before their Startwork is Fully Approved.
How to remove an employee from a production:
Enter the Project and go to Crew Management.
Locate the employee's record and click "view" beneath the employee's name. This will take you to Employment Details.



NOTE: If you see a gray or blue "edit" button instead of "view," it means that the employee's Startwork is not yet Fully Approved, so the employee cannot be removed from the project, but their Invite can be deleted. For instructions, see: How to delete an Employee Invite.


Scroll down. Select "Remove Crewmember from this Production".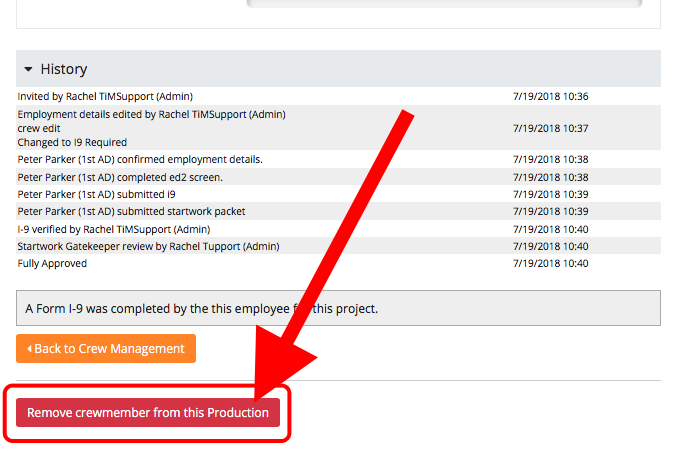 What an employee's record looks like once they are removed from a Project:
From the employee's point of view, the Project will appear on their dashboard, but they will not be able to click into it.
From the production's point of view, the employee's name and position will appear in Crew Management, but it will be grayed out and the status will read "Removed from Crew".
The removed employee will also appear as grayed out on the Crew List.
The Startwork for a removed employee will remain available to view within the Approval Pipeline in case it needs to be referenced.