Per the U.S. Citizenship and Immigration Services Department (USCIS), only an employer or an employer authorized representative can verify a Form I-9. In TiM, an 'employer authorized representative' is any production employee granted Verify I-9 Permissions which can be assigned at the production's discretion.
Employees may be granted Permission to verify I-9s within their own department, or for the whole crew.
Related article: Understanding Permissions in TiM
We suggest that you grant Verify I-9 Permissions to as many people on the crew as possible, so one person isn't burdened with the responsibility.
Think: If there are 800 employees on your production, 800 I-9s will need to be verified.
Delegate!
How to grant Verify I-9 Permission to a project team member:
NOTE: Permissions can be set initially on an Employee Invite and can be adjusted at any time.
Go to Crew Management.
Click the orange "permissions" button next to the name of the employee. This will take you to the employee's Permissions.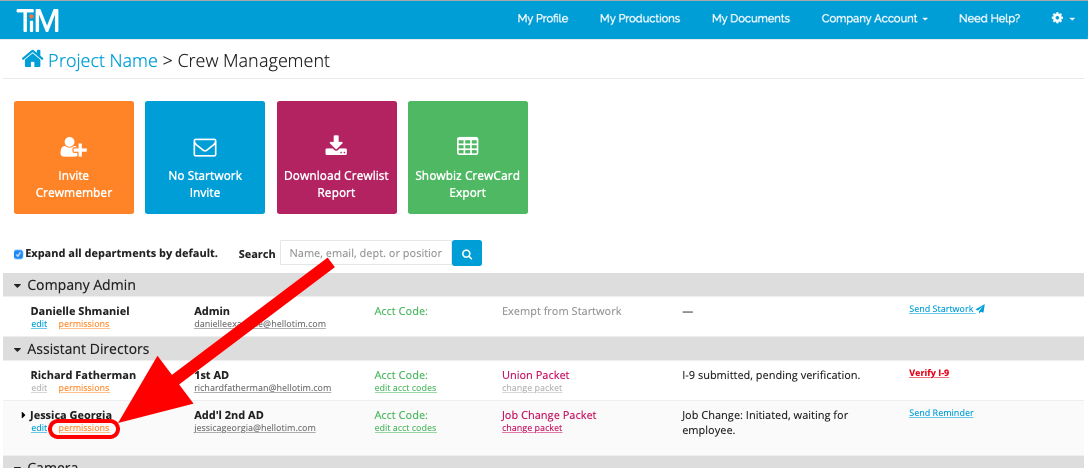 In the left column, under "Verify I-9", select:

"Whole Crew" if you'd like the employee to be able to verify I-9s for any employee on the Project.
"Department Only" if you'd like the employee to only be able to verify I-9s within their own department for this Project.
"None" if you do not want to allow this employee to verify I-9s for anyone.
NOTE: A person may not verify their own I-9, even if that person has been granted Verify I-9 permissions.
At the bottom of the screen, click "Save".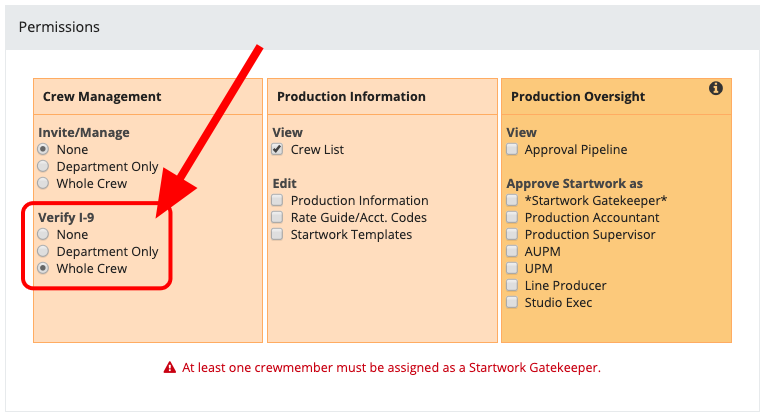 To learn how to properly verify an I-9, TiM encourages you to visit the USCIS website. The USCIS holds Form I-9 verification info & training sessions regularly. Click here for more info.