An employee's TiM profile may be used to submit startwork not just for the current production, but for any productions in the future! Therefore, you should invite employees via their personal email address (or whichever email address will travel with them from one production to the next), as opposed to a work-related email, or an email created specifically for a production. This ensures that the employee receives production invitations and any other important messages relating to startwork. 
Alternate email addresses may be added to TiM accounts via Account Settings. 

NOTE: If you think someone is going to invite you to a production using something different than your primary email address, be sure to include that as an alternate email in addition to your login so it's linked to your TiM account.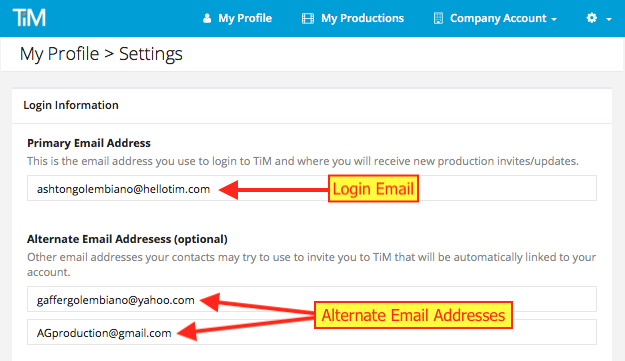 NOTE: If an Employee Invite is sent to an Alternate Email Address before the address was added to the user's Account Settings, that invitation will need to be deleted and re-sent to an email address connected with the employee's TiM account. Messages/Invites will not retroactively show up in an account if they were sent before the email address was added to the user's Account Settings. 
Once an Alternate Email Address is added, messages or startwork sent from that point on will be funneled to a user's TiM account.
One profile. One login. For every production. That's TiM!
If you have further questions, please contact: support@hellotim.com