Your TiM Profile travels with you from one production to the next, so your login will too! Use the email address that will travel with you and allow you to log in to all future projects. 
If you use a work-related email, and your work situation changes, you won't have access to that account anymore. It's best to link your TiM account to the account that travels with you, to ensure you receive production invitations and any other important messages relating to your start work. 
If a production invite is sent to the wrong email address, production should delete that invitation and re-send your invitation to the correct email address.
You may add Alternate Email Addresses to your Account Settings. When you do this, you will still login with your primary email, and any messages sent to those alternate email addresses will be forwarded via your TiM account. 
To access your Account Settings: 
Click on the gear icon on the upper right corner of your screen. A drop down menu will appear.
​
​
Select "Account Settings". This will allow you to access your Login Information. 
​
​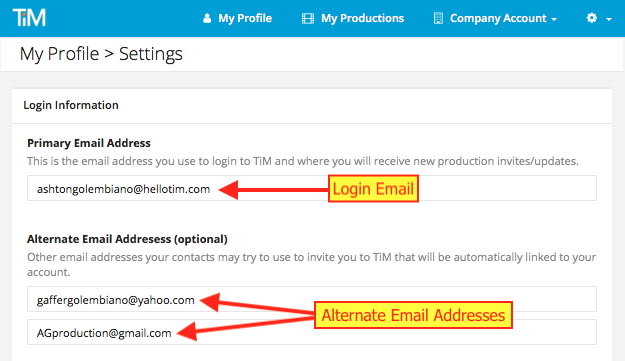 If you have further questions, please contact: support@hellotim.com