Production teams typically need to export Forms I-9 for auditing purposes.
Forms I-9 can be exported from TiM from the Approval Pipeline, via the "Form I-9 Only" export button. See instructions below.
NOTE: Only people with Approve Startwork as: Startwork Gatekeeper or Approve Startwork as: Production Accountant Permission have the ability to export Startwork from TiM.
Why is exporting Forms I-9 handled differently in TiM vs. exporting other forms?
In TiM, Form I-9 is treated specially in many ways. For example, the I-9 is not a form that would be inserted into Startwork Templates, so it is not possible to apply Export Tags to the form (leveraging Export Tags would be the typical way to export other types of forms from TiM). Therefore, TiM has created a special button, dedicated to the export of Forms I-9 only!
How to Export Forms I-9 Only:
NOTE: Only I-9s which have been submitted & verified can be exported. If an I-9 has not been submitted by the employee, or has not been verified yet, it will not be available for export.
From the Approval Pipeline, select the checkmark boxes on the left to indicate which employees' Forms I-9 to export.
Select the "Forms I-9" Export button.




Once you click the export button, a pop up will appear.
Under "Email download link to the following recipient(s)", enter the email address(es) for the folks who need to receive these Forms I-9.

Pro Tip: You can add multiple email addresses by separating them with a comma (ex: payroll@hellotim.com, studio@hellotim.com, auditor@hellotim.com).


Click "Export".


6. The recipient(s) will receive an email from donotreply@hellotim.com, subject "Your batch is ready."
This email includes a link to download the Forms I-9 as a .zip file (see image below). When the .zip file is opened, each I-9 PDF will be named as the employee's name, type of batch, name of project, and date sent. On the download page, recipients also have the option to download as a single PDF.
For example: "Smith_John_I9Forms_ProjectName_2022_10_20"
For more information, see: How to receive Startwork exported from TiM.

FYI: TiM provides a download link instead of attaching PDFs to an email for security purposes, to keep sensitive information from sitting in people's email inboxes for long periods of time. Download links expire after 5 days (120 hours) from when the Batch was sent.


** DO NOT resend a Batch. It will not make the processing go any faster and will only add to the processing queue. If you need assistance, please Contact Us **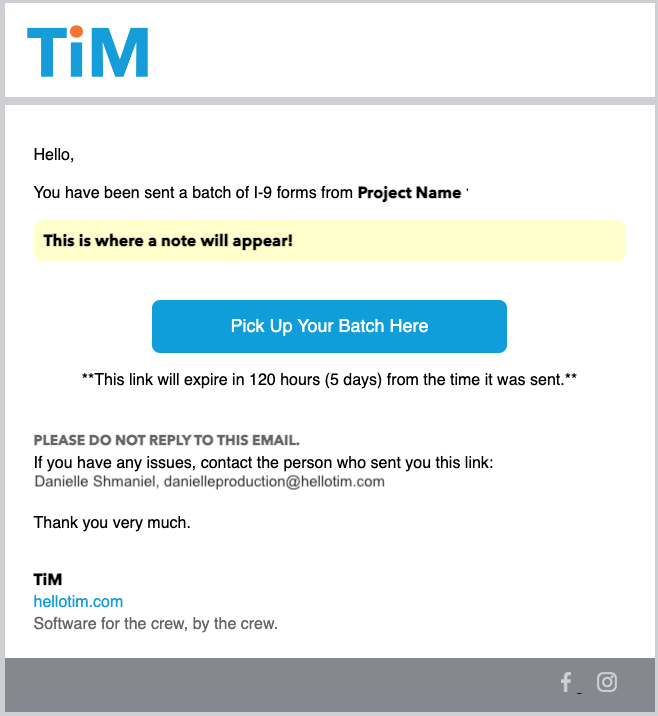 Troubleshooting:
I did not receive the email to download the I-9 form:
Wait a few minutes; your export might be in the processing queue.
Check your spam / trash folder if you do not see the email from donotreply@hellotim.com, subject "Your batch is ready."