(Outlines issues resolved in v. 1.35 ,1.36, 1.37, 1.38)
The TiM Team has been hard at work pushing fixes and new features! Check out what's new below.
As always, you can feel free to submit any thoughts, feedback, or ideas for new functionality to support@hellotim.com. Thank you if you've submitted your ideas already!
New Features:
Production Fee now has a "per week" option in Employment Details.
"Signatory Name" and "Signatory Job Title" Smart Fields are now available as linked fields for all Signature and Initials Fields!

To utilize this new feature, apply the Signature or Initials field to your document, then hover your cursor over the field. You'll see that there's the option to use "linked fields" (see images below). When the Signature or Initials field is signed, the linked fields will populate with the Signatory's Name and/or Title, and the Date field will populate with the date the document was signed.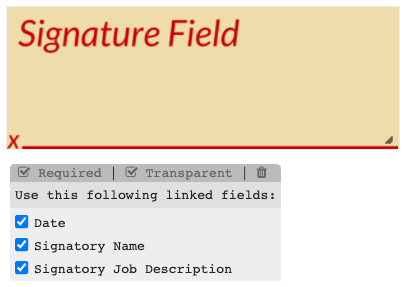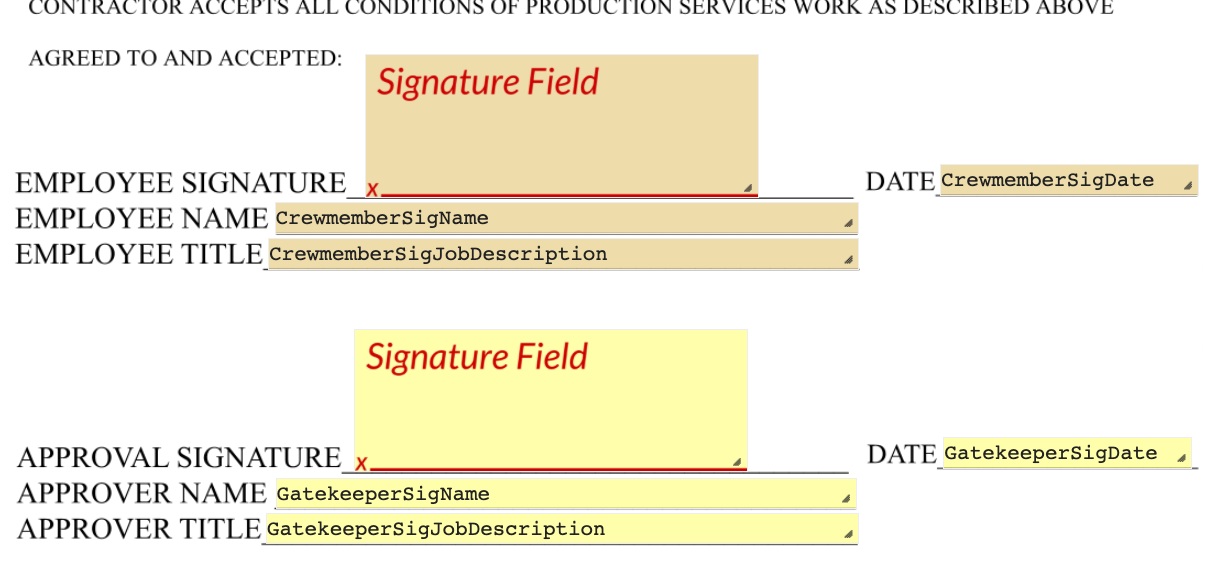 If an employee has already submitted their Startwork and now needs both their Employment Details edited, and to be matched to an updated version of a packet, you can do this all from Gatekeeper Review!

From the Approval Pipeline, select "Review."
At the top of the screen, select "Click here to edit Employment Details or send back a different packet."
Edit the Employment Details as necessary.
Click "Send back to Crewmember."
If a new version of the packet exists, you will be presented with the option to bounce back the current version of the packet, or the latest version of the packet. Select what you need.
Click "Continue."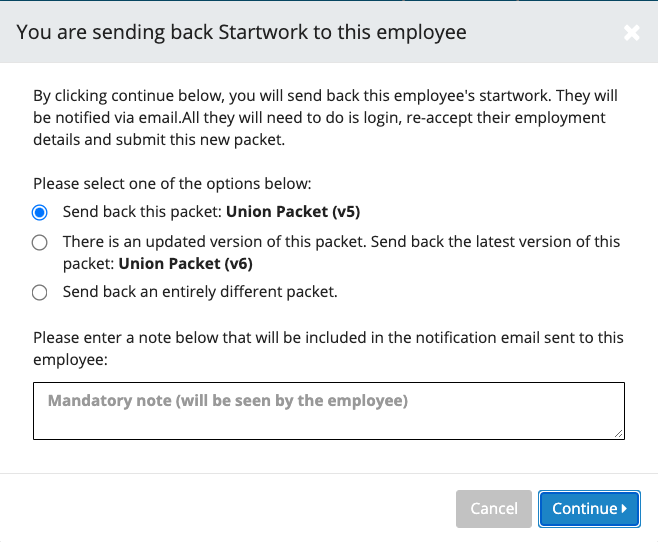 Bug Fixes:
Thank you so much if you caught and reported any "technical weirdness" in our system, and for your patience as we worked to resolve these issues. We apologize for any inconvenience in the meantime!
We've implemented utilities to address long loading times for the Approval Pipeline and Crew Management.
Wrap Production function is now working as intended! Wrap those old Projects!

Users will no longer experience the "Object Reference" error when submitting Startwork.
Sets of required checkboxes are now designed like "radio" buttons, so users can no longer select more than one checkbox at a time in a set.
Sequential Approval Workflow setting is now being correctly enforced.
Startwork Reminder email notifications now have an accurate subject line: "Reminder to complete your Startwork for [Project Name]!"
Save and Test filters no longer produce an error.
Users with Verify I-9 (Whole Crew or Department Only) Permission, who do not have any Production Oversight Permissions can now see Attachments when verifying a Form I-9, so IDs can be examined remotely.
Duplicate Departments no longer appear in Crew Management.