Form I-9 is a legal document that an employer uses to confirm that a person is eligible to work in the United States. Form I-9 must be verified by an employer or an employer-authorized representative.
In TiM, an 'employer authorized representative' is a person granted Verify I-9 Permissions. If you have not been granted "Verify I-9" Permissions for the Project, you will not see the "Verfiy I-9" buttons in Crew Management.
NOTE: Per USCIS regulations, a person may not verify their own I-9. Therefore, in TiM, even if you have been granted Verify I-9 Permissions, you will not be able to verify your own I-9.
For more information about Form I-9, TiM encourages you to visit the USCIS website. The USCIS holds Form I-9 verification info & training sessions regularly. Click here for more info.
For more information about the I-9 in TiM, see: Verifying Form I-9 and I-9: The Unicorn Form
How to verify an I-9 in TiM
1. Go to Crew Management and click "Verify I-9."
Pro Tip: If you have Production Oversight Permissions, you can verify I-9s from the Approval Pipeline as well as from Crew Management.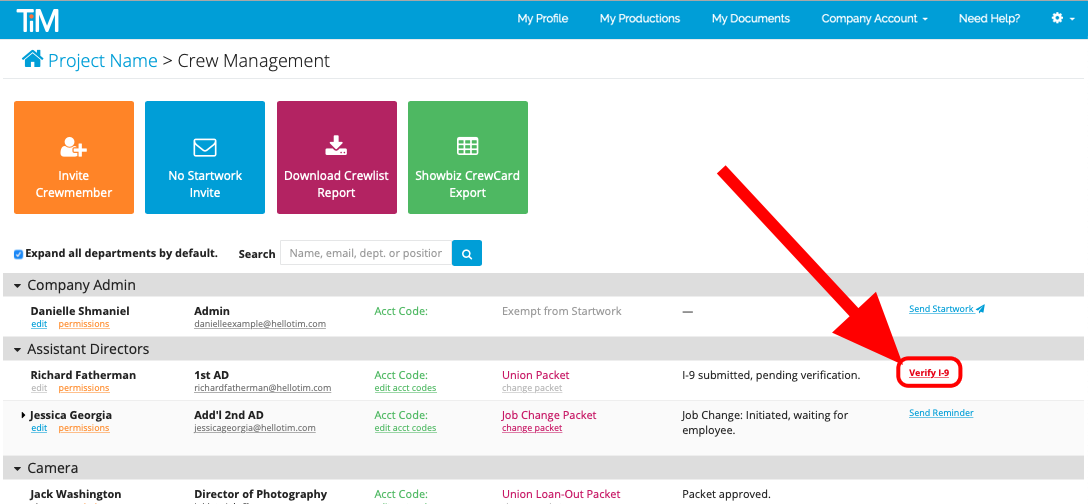 2. A pop-up will appear, letting you know that "You are about to verify the I-9 for [Name of Employee]." Click "Continue to Verify" to proceed.
This is just a reminder, to ensure you have the proper person's ID documents in hand! Click "Go Back" if you meant to verify someone else's I-9.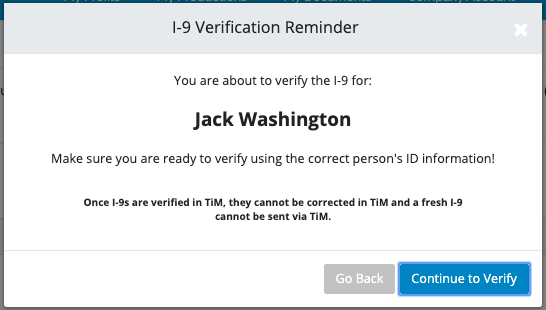 3. Click/Tap the thumbnail for page 1 to review Section 1, completed by the employee.
Review Section 1 to make sure there are no mistakes (TiM has built-in functionality to make sure Section 1 of the I-9 is not submitted with missing information, but there is always room for human error when it comes to the details).
Pro Tip: If you spot a mistake in Section 1 of the I-9, you can click "Add Text" to apply minor corrections (see image below).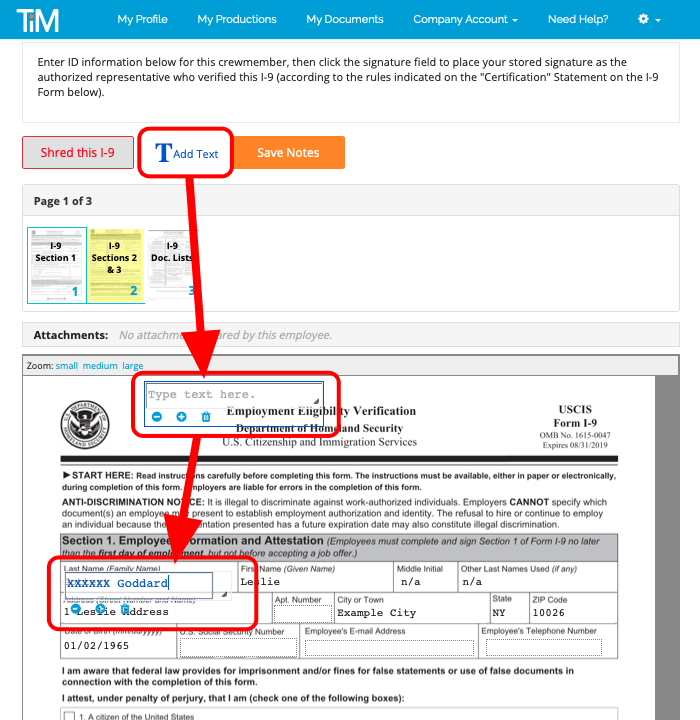 3. Click/Tap the thumbnail for page 2, and get ready to enter the employee's ID information!
FYI:
In order to verify an I-9, the employee must show valid identification to an authorized representative.
It is required by the USCIS for the verifier to "physically examine" these documents, to confirm the documents are legitimate. A copy or photo of the document is not acceptable.
The most common forms of documentation are a Driver's License and Social Security Card presented together, or a U.S. Passport. Click here for a complete list of acceptable documentation.
According to the USCIS, an employer cannot dictate which of those documents an employee may provide for verification.

4. Click/Tap into the Last Name field at the top left. Suggested information will appear.* Click/Tap the suggested info to apply it.
*NOTE: Unlike other forms in TiM, Form I-9 is NOT pre-populated (to adhere to USCIS regulations). TiM suggests information to allow the verifier to complete this form more quickly.
Proceed to complete the I-9 in this manner, ie: click into a field, review the suggested information, and apply the suggested information.
NOTE: ID document numbers are not suggested, and will need to be manually entered, because this information is not gathered anywhere else in TiM.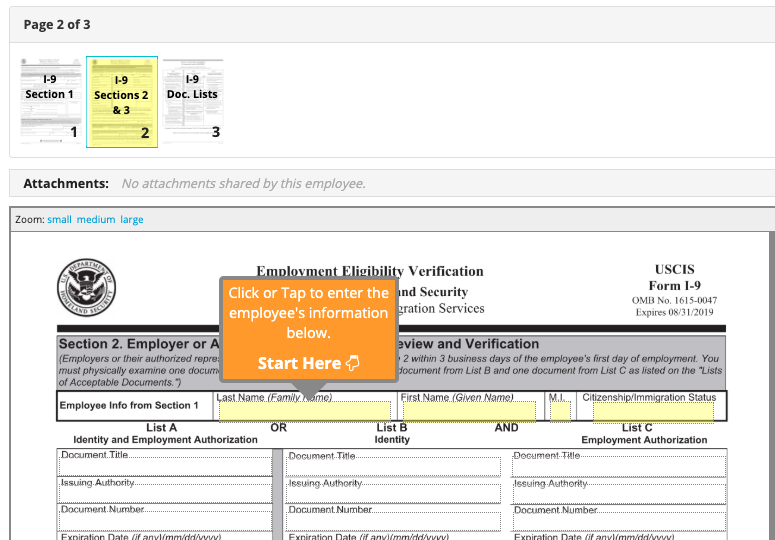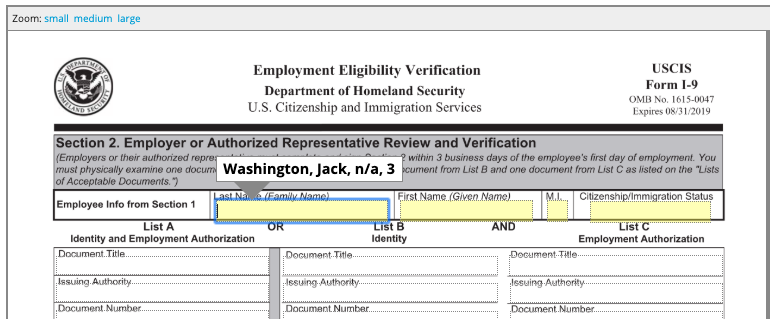 5. Once all the verification information has been entered, a "Sign Here" signature field will appear. Click/Tap the Signature Field.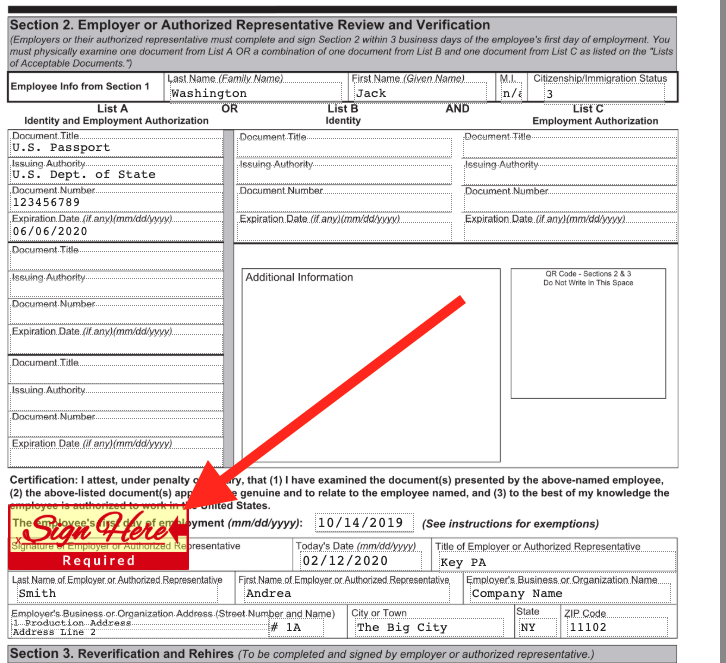 6. A statement of attestation will appear. Select the checkbox and click "Sign, Verify and Submit this Form I-9" to complete the verification.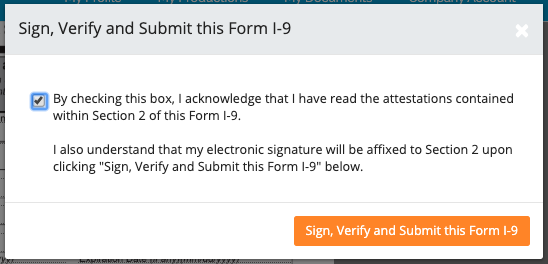 NOTE: Once verified, the I-9 cannot be edited further within TiM. If an I-9 has been verified with incorrect information, see: How to delete, resend, or correct an I-9 in TiM