For more information about Form I-9, TiM encourages you to visit the USCIS website. The USCIS holds Form I-9 verification info & training sessions regularly. Click here for more info.
For more about how Form I-9 operates in TiM, read: I-9: The Unicorn Form and Verifying Form I-9
What is an I-9 and why does it need to be verified?
Form I-9 is a legal document that an employer uses to confirm that a person is eligible to work in the United States. The U.S. Citizenship and Immigration Services Department (USCIS) prohibits employers from hiring and employing individuals not authorized to work in the United States. Therefore, employees must prove they are eligible to work in the U.S. by presenting documented proof of eligibility, and employers must verify that those documents were presented and that the documents seem legit.
Who can verify an I-9?
Per the USCIS, Form I-9 must be verified by an employer or an employer-authorized representative. In TiM, an 'employer authorized representative' is a person granted Verify I-9 Permissions.
Depending on the size of your production it may make sense to grant this Permission in TiM to more than one person on the Project. Think: If your production has 800 employees, that means 800 I-9s will need to be verified!
How do I verify an I-9 in TiM?
Below are instructions on how to Verify an I-9 in TiM. For official instructions, visit the USCIS website and take advantage of free USCIS-provided training on how to Verify the I-9.
Step 1. Access the I-9 via TiM
NOTE: Only a person who has been granted "Verify I-9" Permissions for a Project will have access and be able to verify I-9s in TiM for that Project. Otherwise, they will not see a "Verfiy I-9" option from their view. 
Once an employee submits their I-9, there are two ways to access the form so it can be verified:
In Crew Management, a "Verify I-9" button will appear to the right of the employee's Startwork status.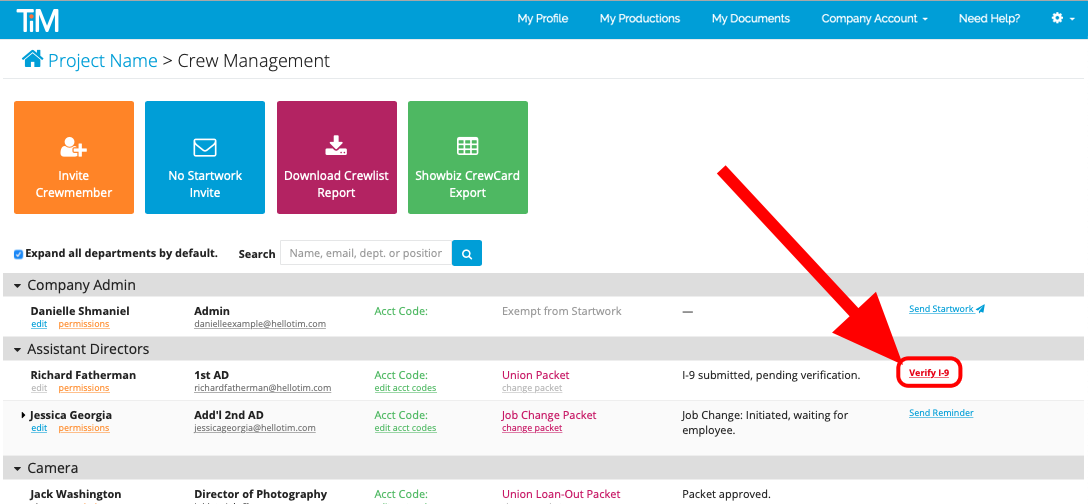 In the Approval Pipeline, a "Verify I-9" button will appear to the right of the employee's name.
NOTE: Only people with Production Oversight Permissions will have access and be able to verify I-9s from the Approval Pipeline. Anyone else with "Verify I-9" Permissions will only be able to verify I-9s from Crew Management.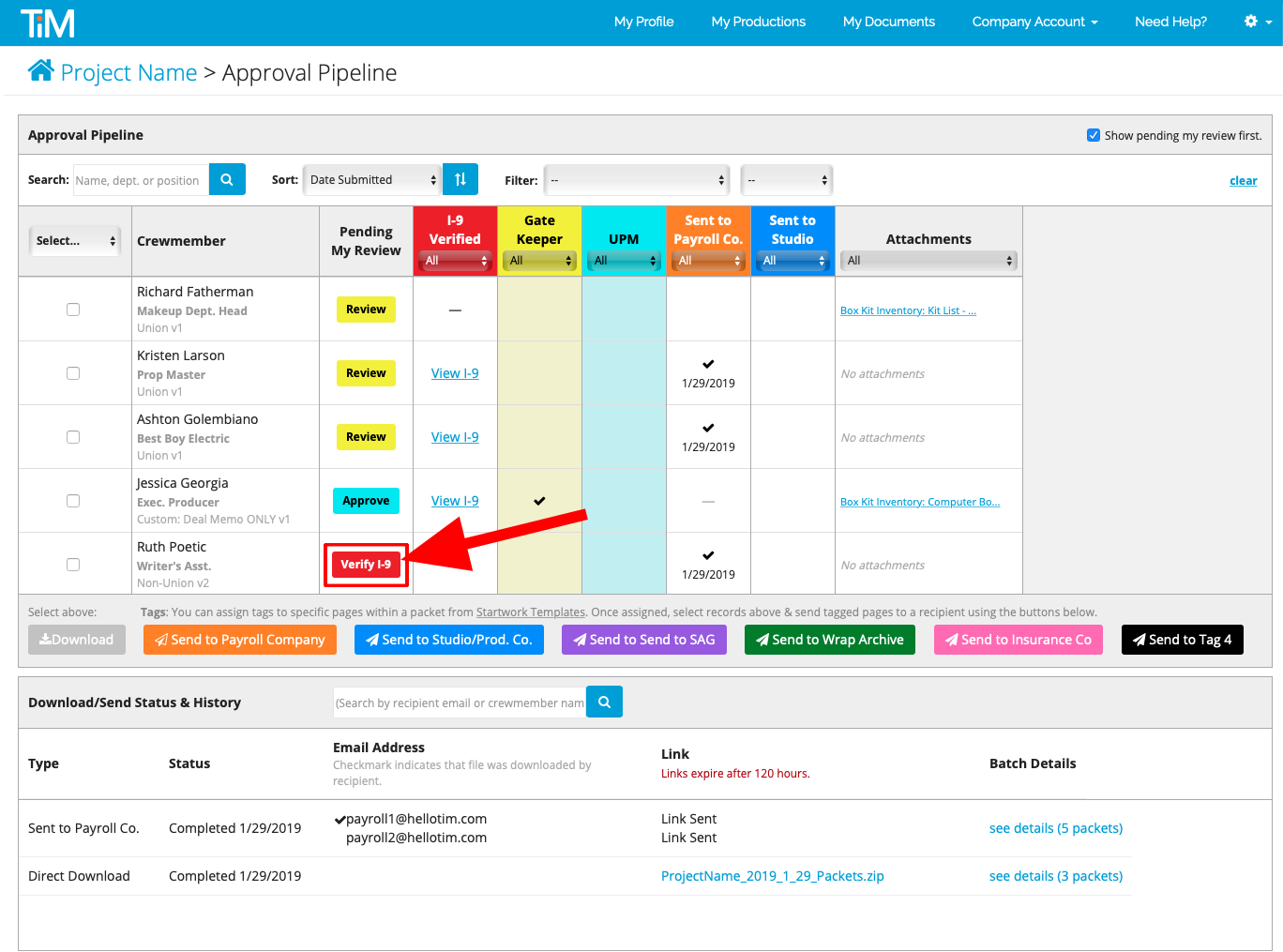 Click either of these buttons to access the I-9 and begin verification. 
NOTE: A person may not verify their own I-9, even if that person has been granted Verify I-9 Permissions.
Step 2. Review Section 1 of the I-9.
Form I-9 is comprised of three sections. The third section is only for re-hires, and is not referenced in this article. 
When an I-9 is submitted by an employee in TiM, they have already completed Section 1, and Section 2 will need to be completed by the verifier. 
NOTE: In TiM, employees do not have access to Section 2 because, per USCIS regulations, no information in Section 2 can be entered by the employee. 
Once submitted by the employee, Section 1 is able to be viewed but not edited by the verifier. The verifier should view Section 1 to make sure there are no mistakes (TiM has built-in functionality to make sure Section 1 of the I-9 is not submitted with missing information, but there is always room for human error when it comes to the details). If the verifier spots a mistake in Section 1 of the I-9, read: There's a mistake on someone's I-9... How do I send it back or delete it?
Section 1 looks like this: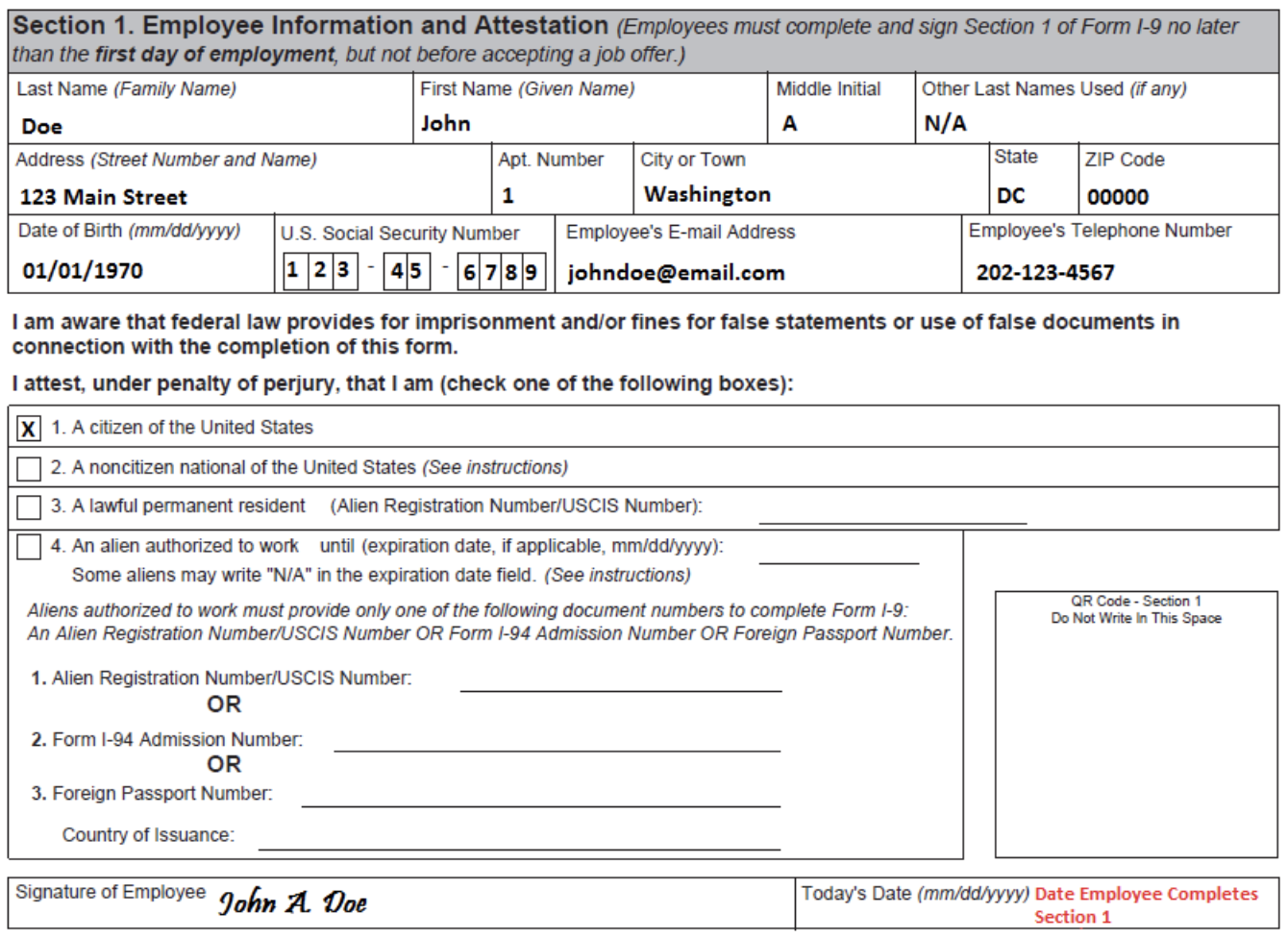 If Section 1 looks correct and complete, the verifier should proceed to Step 3.
Step 3. Examine documentation of employment eligibility
In order to verify an I-9, the employee must show valid identification to an authorized representative. It is required by the USCIS for the verifier to "physically examine" these documents, to confirm the documents are legitimate. A copy or photo of the document is not acceptable. 

The most common forms of documentation are a Driver's License and Social Security Card presented together, or a U.S. Passport. Click here for a complete list of acceptable documentation.
NOTE: According to the USCIS, an employer cannot dictate which of those documents an employee may provide for verification. 
Step 4. Input document information
At the top of Section 2, the verifier will see a message:
Once documents are examined, TiM will guide the verifier through Section 2 so all necessary information is entered where it needs to appear.
NOTE: Unlike other forms in TiM, Form I-9 is NOT pre-populated (to adhere to USCIS regulations).
Once verified, the I-9 cannot be edited further within TiM.
Related article: How to delete, resend, or correct an I-9 in TiM