It is possible to download employees' Startwork once it is completed and submitted by the employee. You can do so from the Approval Pipeline (see instructions below).
An employee can download their own completed Startwork once the packet is Fully Approved (see instructions below).
Can I download blank PDFs of my Startwork packets?
In TiM it is not possible to download blank PDFs of startwork forms or packets. TiM is only a distributor of forms and does not store company forms as blank PDFs.
A Production Company's forms (Deal Memos, NDAs, etc) were provided by the Production Company. 
Government forms are available for download from .gov websites. For example:
Contact your Payroll Company for clean PDFs of any payroll forms.
Are you a Media Services client? For clean payroll forms included in your packets you can download from Media Services client supplies. The paper versions make look slightly different than the digital versions customized for TiM, but they reflect all of the same information.
How to download Startwork submitted by an employee:
NOTE: Only people with "Approve Startwork as Startwork Gatekeeper" or "Approve Startwork as Production Accountant" Permissions are able to download Startwork. 
Go to the Approval Pipeline.
Select the checkmark box(es) on the left to indicate which employee(s) Startwork you want to download.
Click the gray "Download" button below the Approval Pipeline. 
In Recent Batch History, a download link will be generated.
NOTE: Direct Download links are accessible to anyone with "Approve Startwork as Startwork Gatekeeper" or "Approve Startwork as Production Accountant" Permissions. 
When the batch is ready, click the link to download a .zip file. When the .zip file is opened, each Startwork packet will be named as the employee's name, type of packet, name of Project, and date sent/downloaded.
For example "John Smith_Non-Union Packet_NameofProject_YYYY_MM_DD_Packet"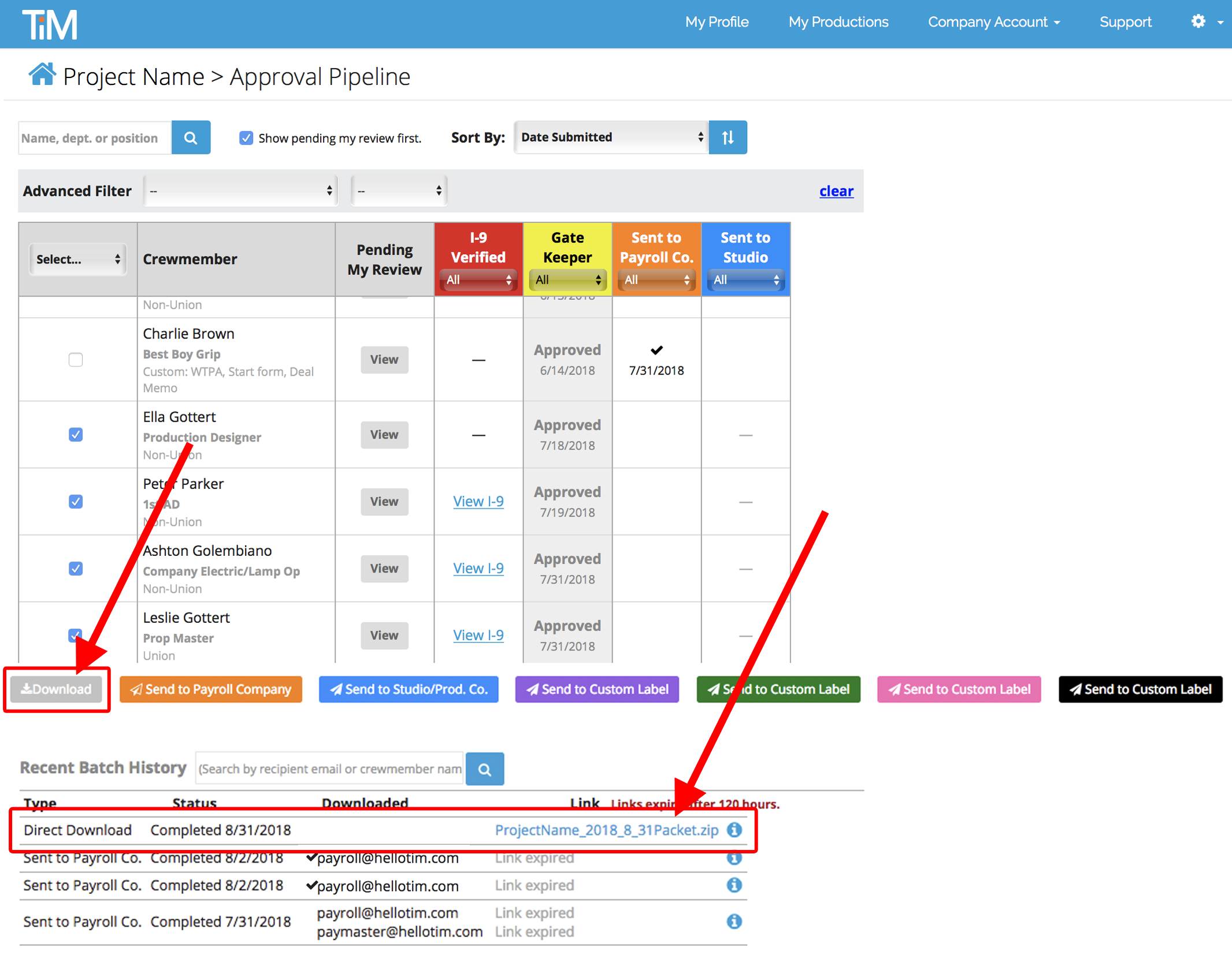 How to download your own Startwork:
NOTE: You can only download your own Startwork once it is Fully Approved.
Login to hellotim.com. 
Click "My Productions" at the top of the screen.
Click into a Project. This will take you to that Project's dashboard. 
Go to "My Stuff".
Click "View/Download". This will open your Startwork in a browser window. You can download from the browser window.