In TiM, the EOR information for each Project you're connected to can be referenced from the Project dashboard:
Login at hellotim.com.
Select "My Productions."
Enter the Project.
Click "more info" at the bottom left of the Production Info box (see image below).
Your EOR's address and phone number are listed in the pop-up.
If for some reason your EOR information is not listed, contact your production for the information. Your Production/Payroll Contact information is listed just above the EOR information.
Pro Tips:
If you need to find out your Employer's Registration Number/Federal Identification Number (commonly needed to file for unemployment), just call your EOR via the phone number listed in "more info."
Employer of Record information is also often listed on your Startwork documents, such as on the "Notice & Acknowledgment of Designated Pay Day", start form, W-4, and W-9.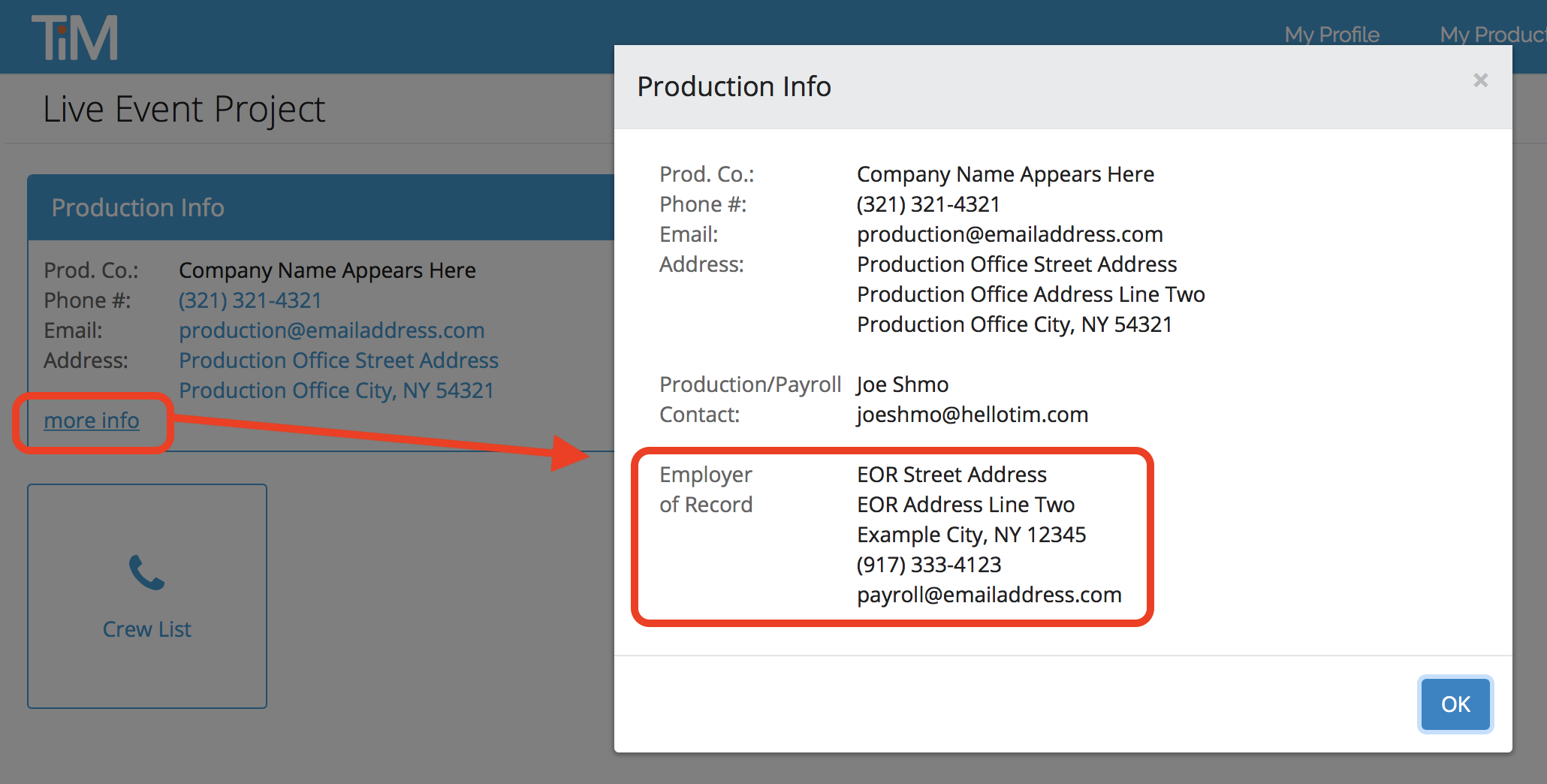 For Cast & Crew, CAPS, and Media Services employees:
It is our understanding that Media Services, Cast & Crew, and CAPS employees can access their EOR and W-2 information via the My Cast & Crew portal, accessible via this link:
https://my.castandcrew.com/login
See instructions below.
(Yes, Media Services, Cast & Crew, and CAPS employees can use this portal - the companies are in the same family!)
Pro Tips:
An employee's log in credentials will be the same for TiM and My Cast & Crew, because both systems leverage Oktaas a single-sign-on solution.
To our knowledge, employees can also use the My Cast & Crew portal to register for direct deposit, update their direct deposit bank information, and modify their tax withholdings.
For more information about My Cast & Crew, please contact Cast & Crew's Employee Help Desk: