In TiM, once Startwork is submitted, the I-9 must always be handled first, and then you can access the rest of the Startwork packet.
We highly recommend verifying an employee's I-9 ASAP, to ensure the form is verified in a timely manner (per USCIS regulations, an employee's I-9 must be verified within the first three days of employment).
If you are unable to verify the I-9 but want to move forward with editing the employee's Employment Details, you can shred the I-9 and then select to send the employee a fresh I-9 to submit when they submit their revised Startwork. See steps below.
Note: These steps can only be completed by a user with a combination of Verify I-9 + Approve Startwork as: Startwork Gatekeeper Permissions.
From the Approval Pipeline, select "Verify I-9."
A pop up will appear. Select "Continue to Verify."
Once the pop up clears, at the top left select "Shred this I-9."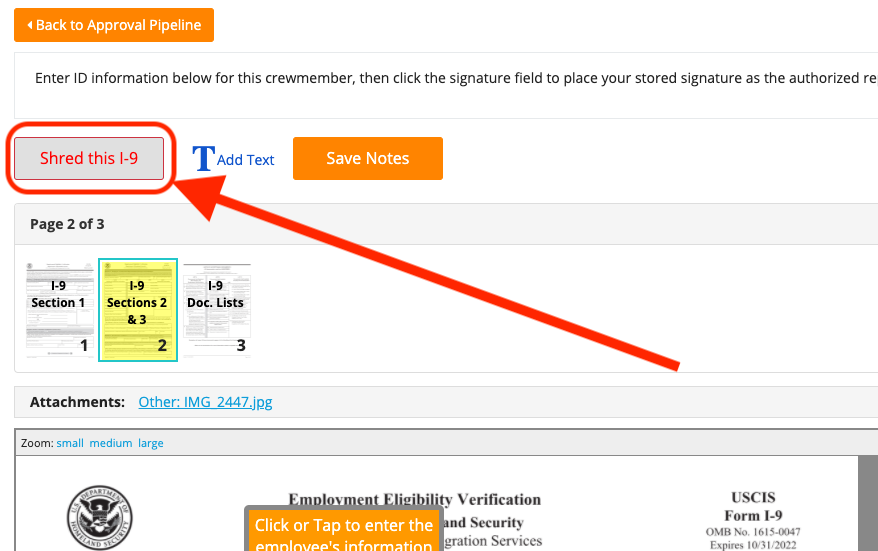 A pop up will appear. Follow the prompt to type "Shred this I-9" into the entry point.

Note: This prompt is a precaution, to ensure I-9s aren't shredded without a second thought!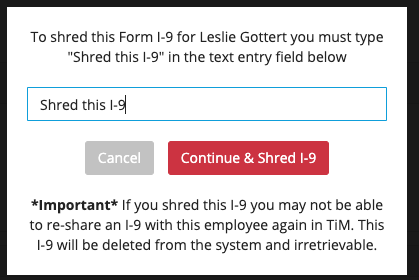 Once the I-9 is shredded, the yellow "Review"button will appear next to the employee's record.
Select the yellow "Review" button. This will take you to Employment Details.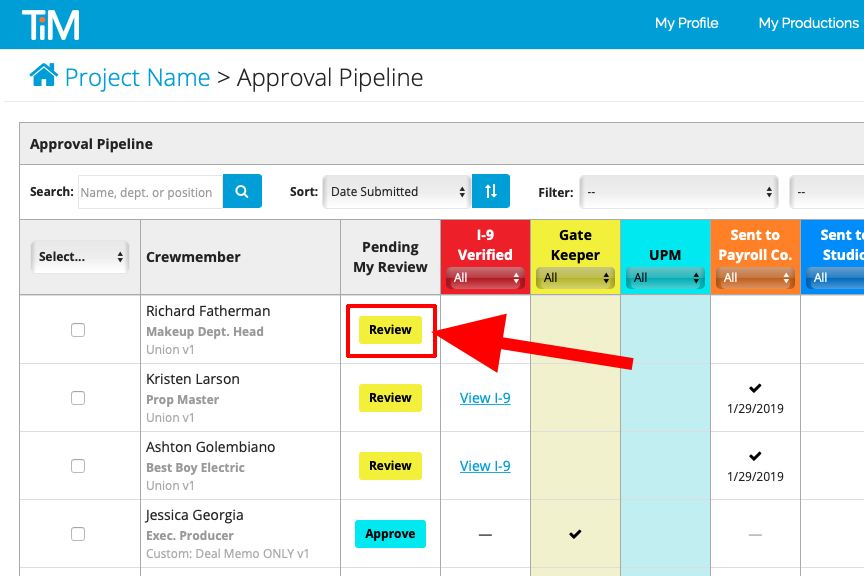 At the top of the screen, select "Click here to edit employment details or send back a different packet." This will activate the screen and allow you to make changes.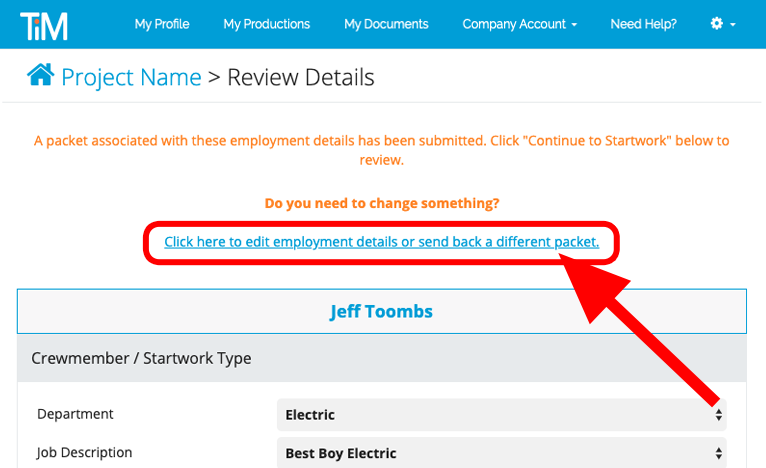 Edit the employee's Employment Details as necessary.
IMPORTANT STEP: DE-select the checkbox next to "Do not include a Form I-9 in this employee's startwork packet." This will ensure that the employee receives a fresh I-9.

Select "Send Back to Crewmember."
A pop up will appear. Here you have the option to enter a message to the employee to provide context as to why their Startwork is being bounced back.

The message will appear in an email the employee receives, along with a link back to their Startwork (similar to the initial Invite they received).

Click "Continue."
In Crew Management, the employee's Startwork status will now show as "Packet sent back [date], waiting for employee."

In the Approval Pipeline, the employee's Startwork status will show as "Startwork not yet submitted."

The employee will need to login at hellotim.com to re-sign & submit their Startwork (only a few clicks!).