Creating multiple TiM Company Accounts to reflect how your Parent Company is set up in real life may not be the most efficient way to organize Projects within TiM. 
Ask yourself these questions:
Will the Projects under each Subsidiary Company have the same or very similar forms and packets?
Will each Subsidiary Company have the same Company Admins*?
If the answer is yes to both questions, it sounds like your Subsidiary Companies are mostly the same, except in name. Thus, separating your Accounts is really a layout preference. 
*NOTE: Company Admins can be anyone who will need to access or manage multiple Projects within a Company Account. Company Admins can create Projects, access any Project within the Company Account, edit Company Account forms, and edit Company Account general and billing information.
Layout #1: 
House all of your Subsidiary Company Projects under one TiM Company Account.
With this layout, you can build all your Forms and packets within the one TiM Company Account and insert them into packets at the Project level regardless of the Subsidiary Company.  
When you create a new Project, it is very easy to edit the Company name in Production Info so the Subsidiary Company name appears on Startwork documents instead of the Parent Company name (see image below).
With this layout, Company Admins will only need to be invited to the Parent Company, and will have access to all Projects within that company.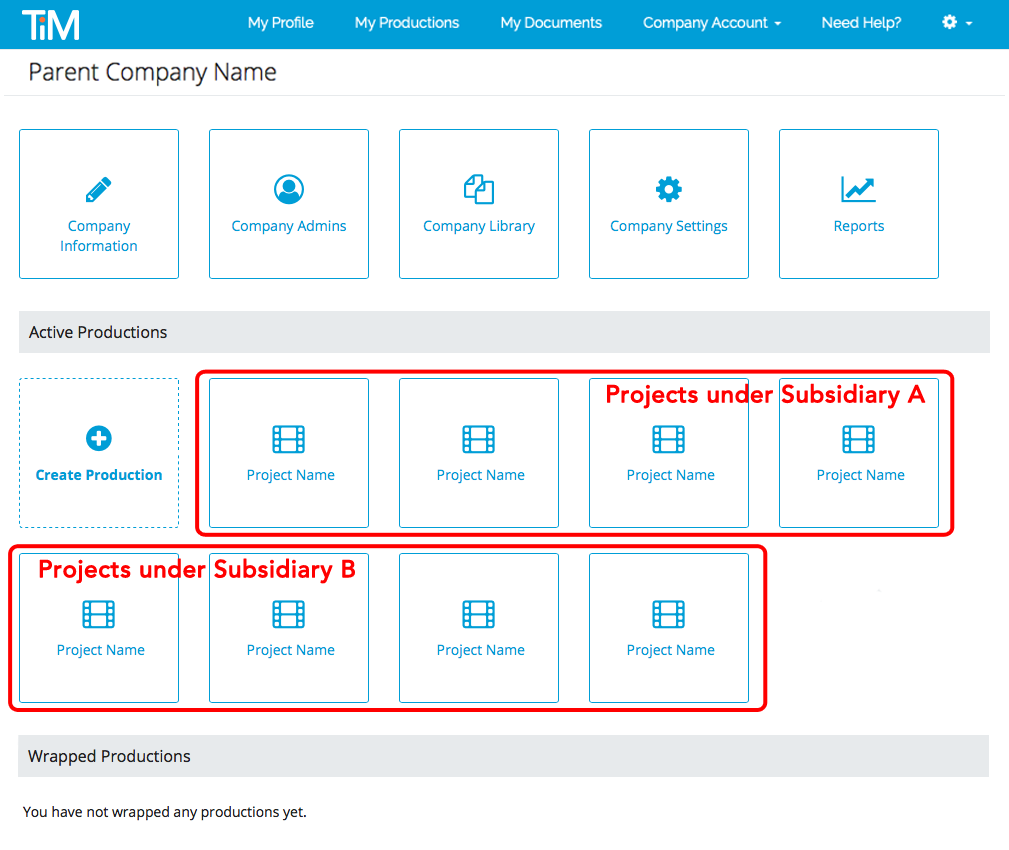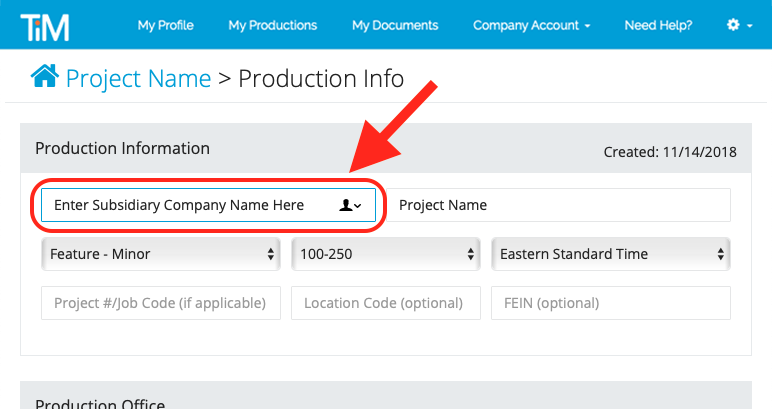 Layout #2: 
Create separate TiM Company Accounts for each of your Subsidiary Companies.
Forms and Packets cannot be shared between Companies, so with this layout you would have to build Startwork packets for each Company, even if packets are the same or similar. 
All Subsidiary Company information will be suggested by default for each Project's Production Info, and unless edited, that information will appear on all Project-level Startwork packets. 
Since information cannot be shared between Companies, Company Admins would need to be Invited to each Subsidiary Company in order to have access to all Projects within each Company.