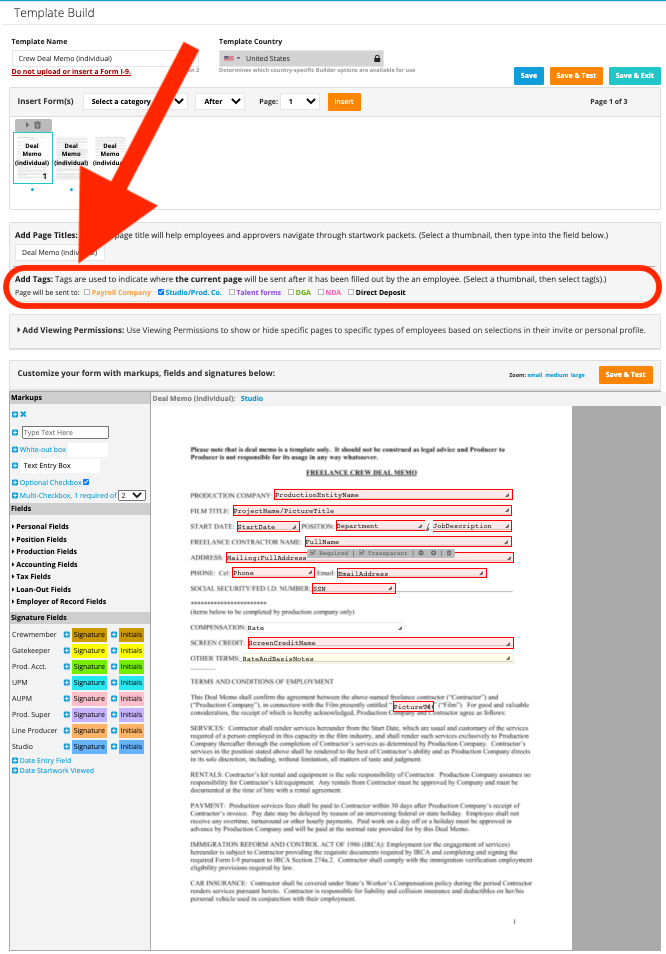 Export Tags are used to indicate that a page or set of pages within a Template will need to be exported from TiM to allow you to export specific pages or sets of forms more swiftly.
For example, applying Export Tags assists with the following situations:
You need to export all of the DGA contracts to the union for filing.
Your Health and Safety officer needs to review all of the submitted Health and Safety questionnaires.
The Studio needs to retain hard copies of all Deal Memos, NDAs, Talent Releases, and Conflict of Interest forms.
With paper packets, you would need to manually pull the specific pages out of each employee's start packet - a task that takes time and energy, with high probability that a page is missed!
With TiM's Export Tags, however, TiM pulls the pages you need in just a few clicks! All you need to do is indicate which page or set of pages will need to be exported within Startwork Templates, and then initiate the export from the Approval Pipeline!
Export Tags can be added or revised at any time from "Edit Tags & Titles", by users with Edit: Startwork Templates Permission.
Pro Tip:
The labels for the orange "Payroll Company" Export Tag and the blue "Studio/Prod. Co." Export Tag are built in to TiM functionality, because productions typically need to send sets of pages to payroll and the studio. Many

TiM Templates

already have "Payroll Company" and "Studio/Prod. Co." Tags applied by default.
You can customize the labels for the purple, green, pink, and black Export Tags, to define sets of pages that might need to be exported to other recipients besides the Payroll Company or Studio (for example, Unions or Health Officers). For more info, see: How to create or re-label Custom Export Tags via Tag Setup
To Add Tags (AKA apply Export Tags):
Select a page thumbnail (the thumbnail will outline in turquoise once selected).



Pro Tip:

You can select multiple pages at once by holding down command + selecting each page thumbnail. You can select multiple

consecutive pages at once by selecting the leftmost page thumbnail + hold down shift + select the rightmost page thumbnail.


Under "Add Tags," select the checkbox for the Tag(s) you want to apply to the selected page(s). A colored dot will appear under the page thumbnail to confirm that the Export Tag has been applied.

Pro Tip: You can apply multiple Tags to a page, because there might be more than one stakeholder who needs to receive the same form!