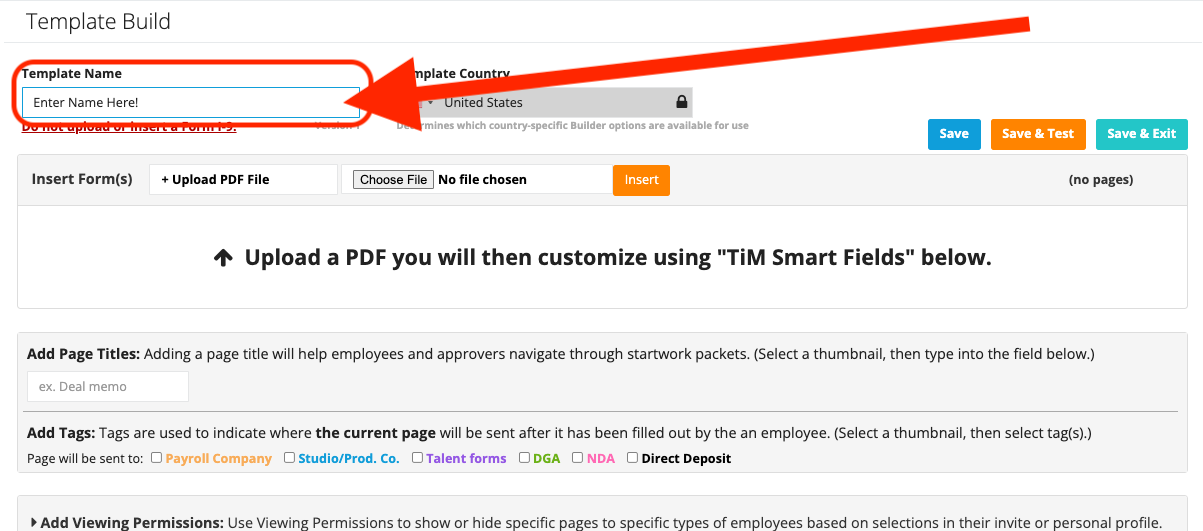 At the top left of the Builder, in the space provided under "Template Name," you can enter a custom name for your Template.
We recommend using very obvious names for Templates, such as "Non-Union Weekly Deal Memo" or "NDA".
Pro Tip: If building a Company Form, you might consider entering a version number, if your original document file contains one. For example, "NDA (v. 09.21.2020)".

NOTE: At the Project level, Standard Packet Template Names cannot be edited. Template Names can only be customized for Company Forms, Company-level Standard Packets, and Special Packets.
Why is it important to name my Template?
It is important to enter a Template Name so the Template can be easily referenced later.
If a Template is not named, the Template Name will appear as "Untitled" which will be confusing in future reference.
Where will my Template Name appear throughout the system?
Template Names will appear in your Company Library (Company Forms, Standard Company Packets, and Special Company Packets) and Startwork Templates (Standard Packets and Special Packets).
When you are creating a packet, you will need to reference Template Names when choosing forms to insert.
Template Names will also come into play if you ever need to duplicate a packet.

Can I revise my Template Name?
Yes, Template Names can be revised at any time by users with Edit: Startwork Templates Permission, from within the Builder or via "Edit Tags & Titles".