Startwork packets contain several types of forms. Some forms need to be processed by the Payroll Company, such as the Startform and WTPA notice. Some forms need to be archived by the Production Company, such as the Deal Memo and Confidentiality Agreement.
In a paper world, you would need to manually separate, scan, file, and send packet pages.
In TiM, "Tags" can be used to indicate pages that will need to be pulled from packets and sent to different recipients. With one "Send to" click, you can mass export only the necessary forms for multiple employees all at once!
NOTE: Startwork packet pages must be Tagged in the Builder in order for submitted Startwork to be sent to any recipient, including payroll. Startwork is not sent automatically. Someone must click a "Send to..." button from the Approval Pipeline in order for submitted Startwork to be sent to any recipient.
You can add Tags at any time from Startwork Templates. See: How to add or revise Tags using "Edit Tags & Titles"
How To Send Tagged Pages:
From the Approval Pipeline, select the checkmark boxes on the left to indicate which employees' documents to send.
Click one of the "Send to..." buttons to initiate a Batch Send.
Once you click a "Send to .." button, a prompt will appear.
When you are ready to send, click "Batch It!"
You can track the status of a Batch from Download/Send Status & History.
** DO NOT resend a Batch. It will not make the processing go any faster and will only add to the processing queue. If you need assistance, please Contact Us**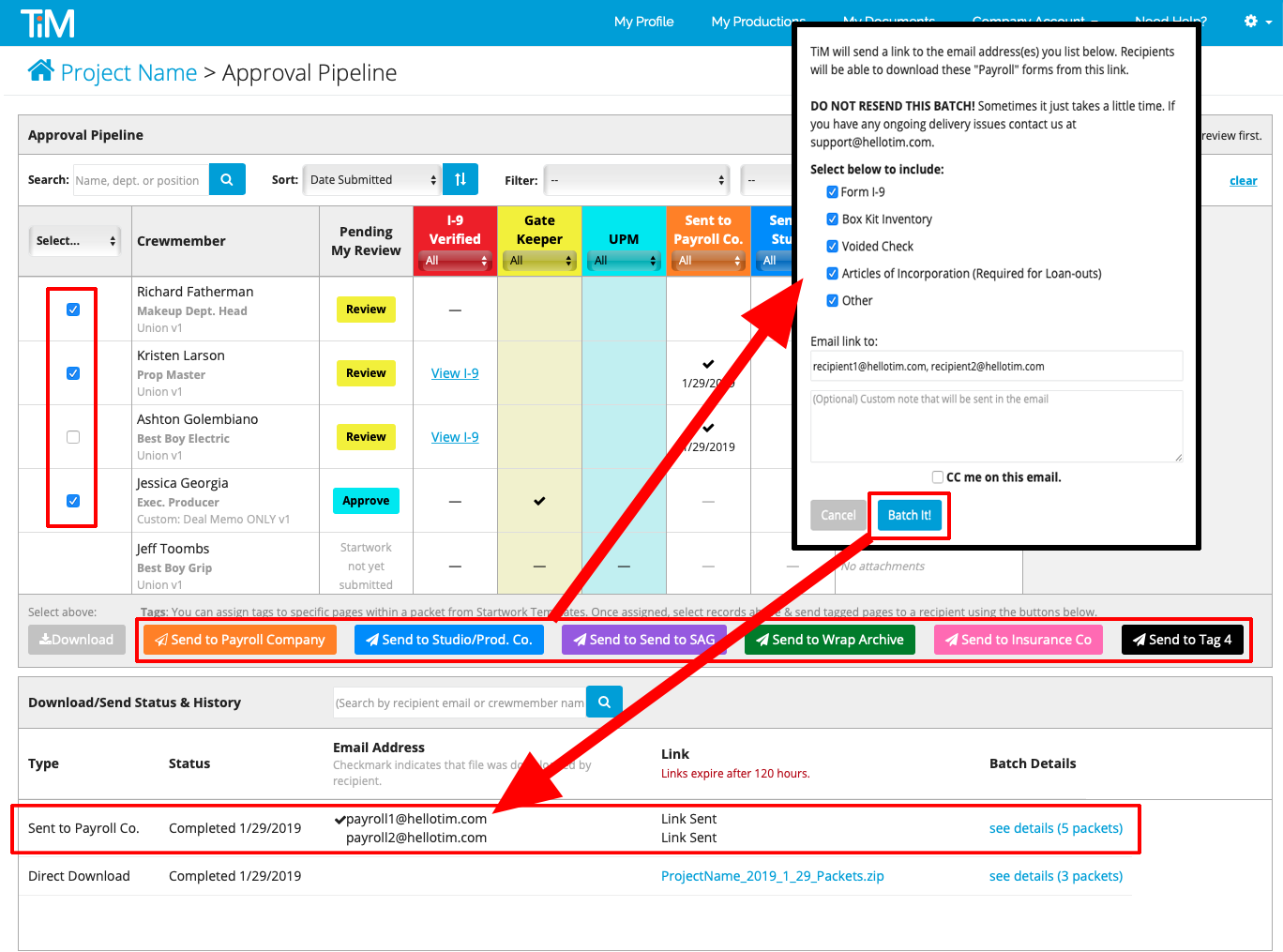 The recipient(s) will receive an email that includes a link to download the packet Batch as a .zip file.
NOTE: TiM provides a link instead of attaching PDFs to keep sensitive information from sitting in people's email inboxes for long periods of time. Download links expire after 5 days (120 hours) from when the Batch was sent.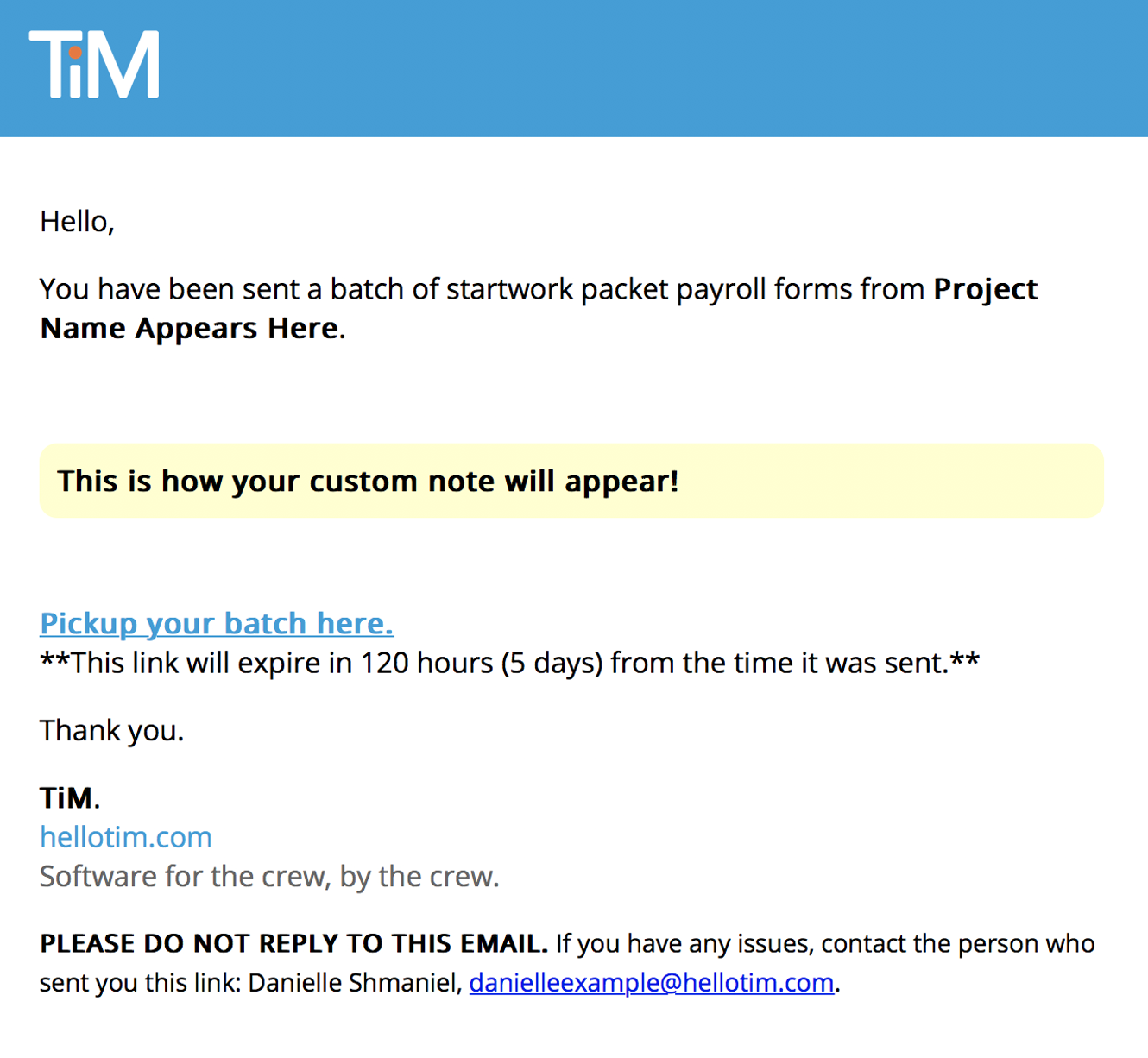 When the .zip file is opened, each Startwork packet will be named as the employee's name, type of packet, name of project, and date sent.
For example "Smith_John_Non-Union Packet_NameofProject_YYYY_MM_DD_Packet"
"Send to..." PRO TIPS!
You can add multiple recipient email addresses separated by a comma + space.
You can choose to include I-9s, or de-select if not necessary.
You can add a custom note that recipient(s) will see.
You can choose to CC yourself.
How does TiM know which pages to send?
"Send to..." buttons correspond to the Tags set in your Startwork Templates.
The "Send to Payroll" button corresponds with the orange Tags.
The "Send to Studio" button corresponds with the blue Tags.
Purple, green, pink, and black Tags correspond with sending to other recipients. You can customize Tag labels from "Tag Setup" in Company Library (to set default Tag labels for every Project within a Company Account) or Startwork Templates (to set Tag labels per Project).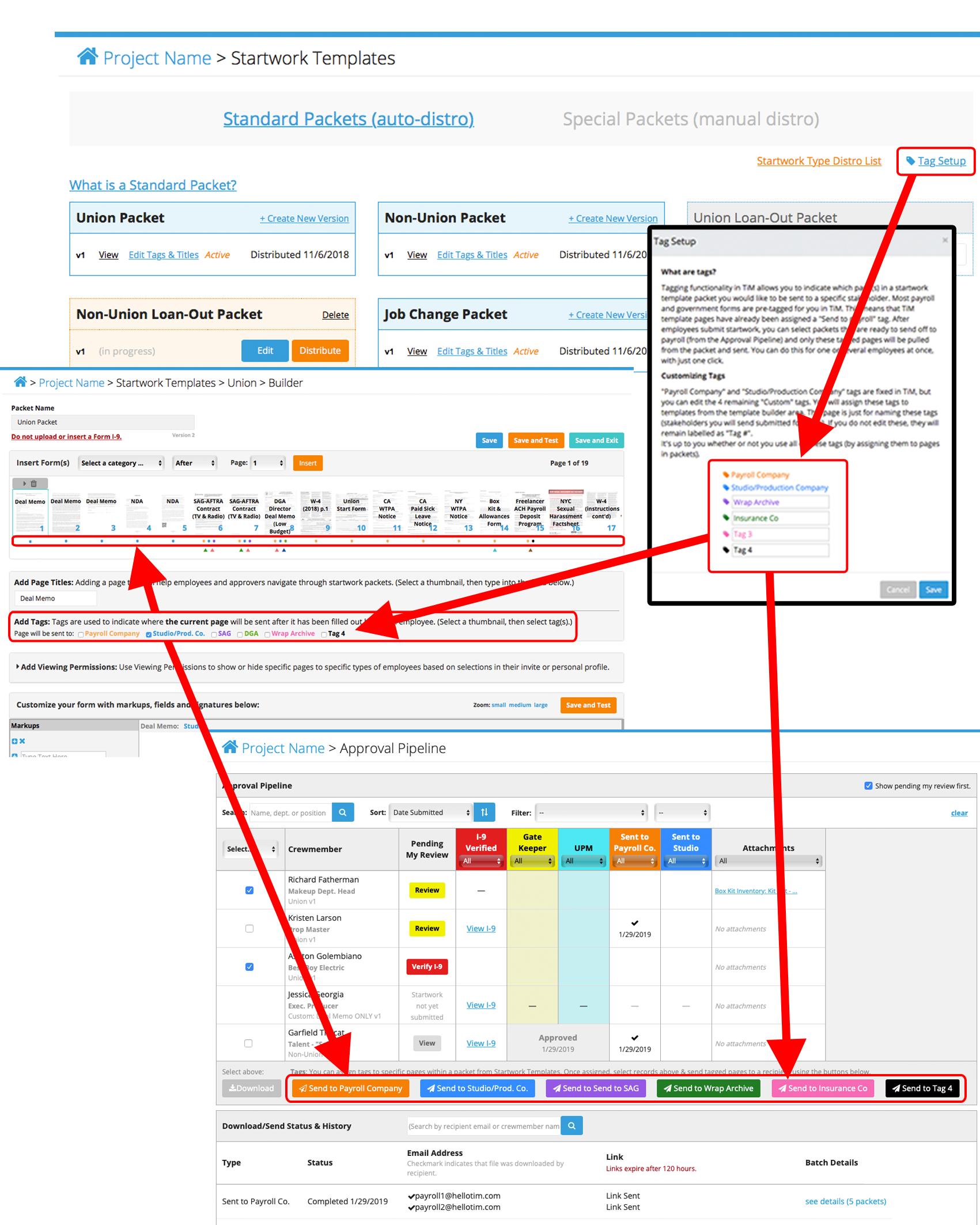 How does TiM know what recipient to send to?
When sending to Payroll, TiM will pre-populate email address(es) in the "Email link to:" field based on the Payroll Coordinator/Paymaster email address(es) entered in Production Info (the email addresses in the image below are just an example).
Email addresses for any other recipients do not pre-populate.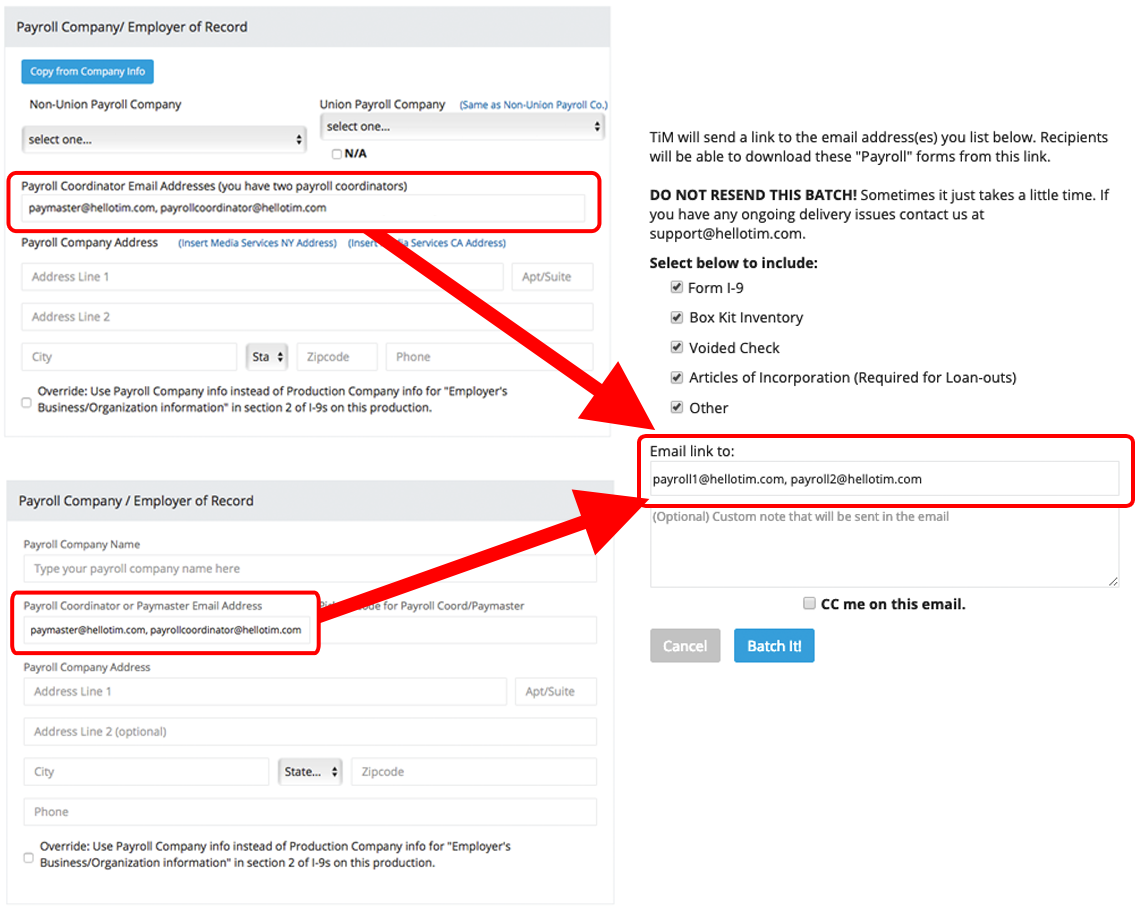 How to track if Startwork has been received and downloaded:
Once a Batch Send is initiated, you can track it in Download/Send Status & History at the bottom of the Approval Pipeline screen. Once the batch is downloaded, a little check mark will appear next to the recipient's email address.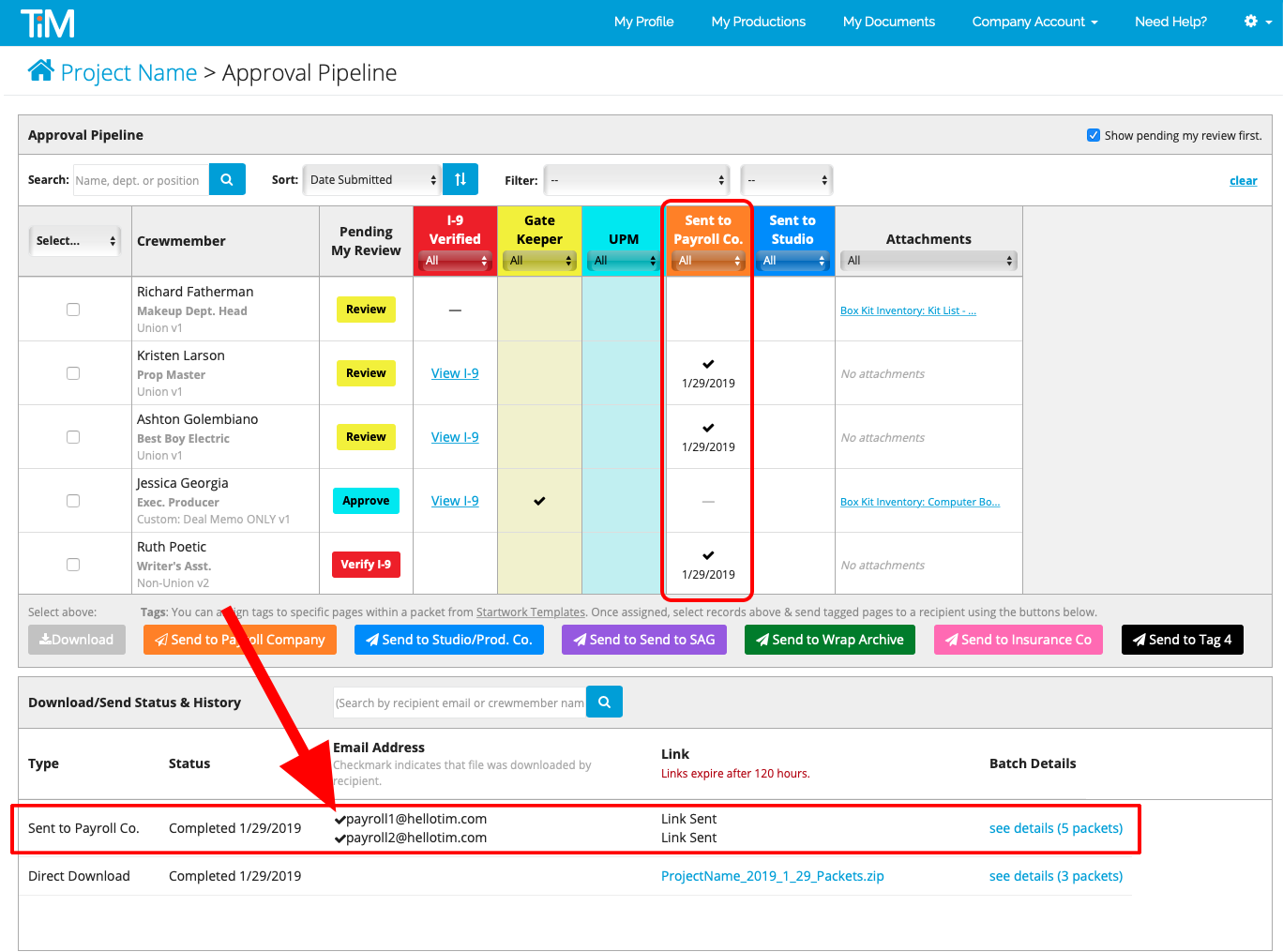 NOTE: Packets are able to be sent or downloaded as soon as they are submitted by the employee, even if the packet is not yet Fully Approved. The PDF generated will be a snapshot of how that packet is at the time you send/download.