Hey, we get it. TiM takes some getting used to. Here are some common mistakes Admins make when setting up or managing a Project. So you know you're not alone... or so you can learn from the mistakes of others!
Not Distributing a packet.
Packets must always be Distributed in order for them to be successfully auto-matched to employees when they are invited to a Project.
If an employee is receiving a message that reads "Your Startwork Packet Type has not been built or published yet", go to Startwork Templates and make sure that packet type has been Built AND Distributed.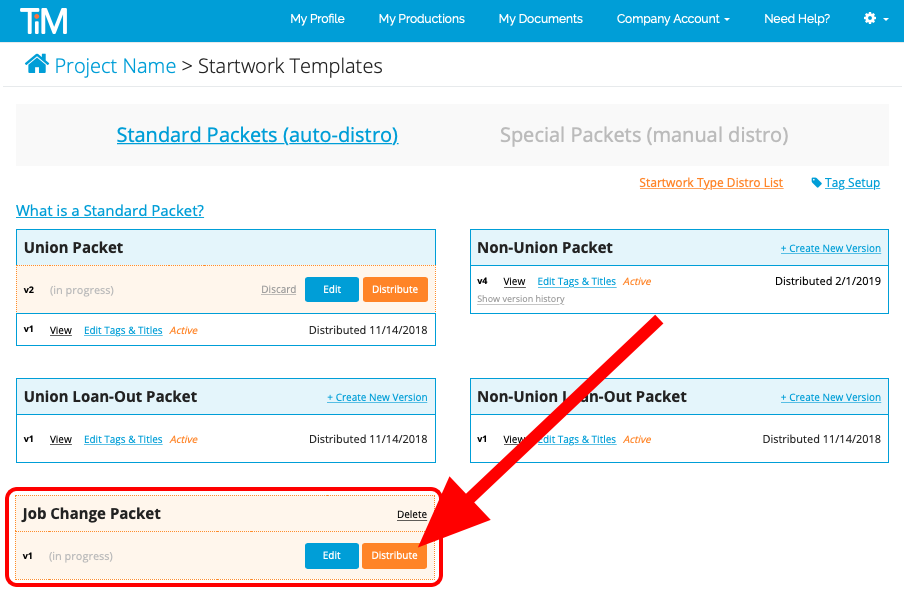 Not checking the packet before it gets Distributed!
This may sound elementary, but before you Distribute your packets, make sure you check the packet to ensure it's completely ready to be Distributed!
Just because TiM provides many common forms, or just because a TiM specialist may have helped you set up your forms, you are the only one who knows if forms are absolutely ready to be Distributed. 
For Example:
The WTPA form has pre-selected fields that may not apply to your Project, like designated pay day.
The ACA hiring status on the startform is selected as "full time" by default. You can adjust this!
Save yourself time and headaches later -- review your forms and packets before you Distribute them! 
Adding Approval Signatures without corresponding Permissions.
Packets always require a Gatekeeper's review before they are Fully Approved, whether or not a Gatekeeper signature field is placed within those packets. This ensures packets are always reviewed before they are Fully Approved. 
The first person approving packets should always be assigned "Approve Startwork As: Startwork Gatekeeper" Permission.
At least one employee must be assigned "Approve Startwork As: Startwork Gatekeeper" Permission in order to access Startwork and begin the approval process.
If a Signature Field (besides the Gatekeeper Signature Field) is placed onto a packet, but no one is assigned the corresponding Approval Permission, no approver will be able to access that packet.
Alternatively, if someone is assigned an Approval Permission, but there is no corresponding Signature Field within packets, that Approval Permission will be moot and the system will not know to require that type of Approval Signature.
See: I gave someone the permission to approve Startwork as a Line Producer (or UPM, etc.), but they can't approve it. Why?
Sending batches of startwork over and over, or one by one.
Documents do not live in TiM as PDFs. Rather, they remain in a layered and malleable state, surrounded by protective encryptions, until you click "Send to..." or "Download" from the Approval Pipeline. Once this command is initiated, the system starts a process called "stamping", or generating Startwork documents into downloadable PDFs. Stamping can take up to a few minutes to complete.
Stampers, what we call the servers working to generate the PDFs, process via queues. When you click "Download" or "Send to...", TiM sends your batch to a queue. During high volume times, if many users are sending batches to be stamped, queues are longer and therefore stamping may take longer. 
Therefore, once you click "Send to..." or "Download", please have patience! Do not click the button over and over again, or the system will keep sending batches to the queue to be stamped, and the queue will get longer and longer, and anyone sending batches after you will have to wait until all your duplicate batches are processed before even one of their own is processed! 
It is also best practice to send or download multiple Startwork packets at once -- up to 50 at a time is possible -- rather than send one packet at a time.
Every time you send packets to payroll, your Payroll Coordinator or Paymaster receives an email with a link to download those packets. If you send 50 packets one at a time, rather than all at once, your poor payroll coordinator or paymaster will receive 50 individual emails with 50 different download links! That can be very hard to keep track of. 
Inviting Company Admins to each Project.
You do not have to invite Company Admins to every Project within a Company. A Company Admin will appear on a Project's Crew List once they click into a Project for the first time. 
See: Why aren't Company Admins appearing on the Crew List for my Project?