Custom Forms are any documents that will need to be included in your Startwork Packets that are unique to your Company.
Common types of Custom Forms include a Crew Deal Memo, NDA, or Appearance Release. 
TiM offers a selection of commonly used Government and Payroll Forms, such as the W-4, I-9, and WTPA, as pre-built TiM Templates that can be inserted into Packets. Therefore, you do not need to upload those forms. You will only need to upload and build your Custom Forms. 
Step 1. Convert your Custom Forms into PDFs.
TiM only accepts PDF uploads, so you will want to make sure any Word or Excel, etc. documents are converted to PDFs.
Step 2. Upload your Form's PDF within Company Library.
NOTE: It is best practice to upload and build each form individually. For example, instead of creating one PDF with the NDA + Deal Memo + Appearance Release together, or uploading three separate PDFs into the same Form, create three separate files. This will allow you to later distribute each form individually, if necessary. It is very easy to combine multiple forms into a packet later on within TiM.
From your Company Dashboard, click "Company Library."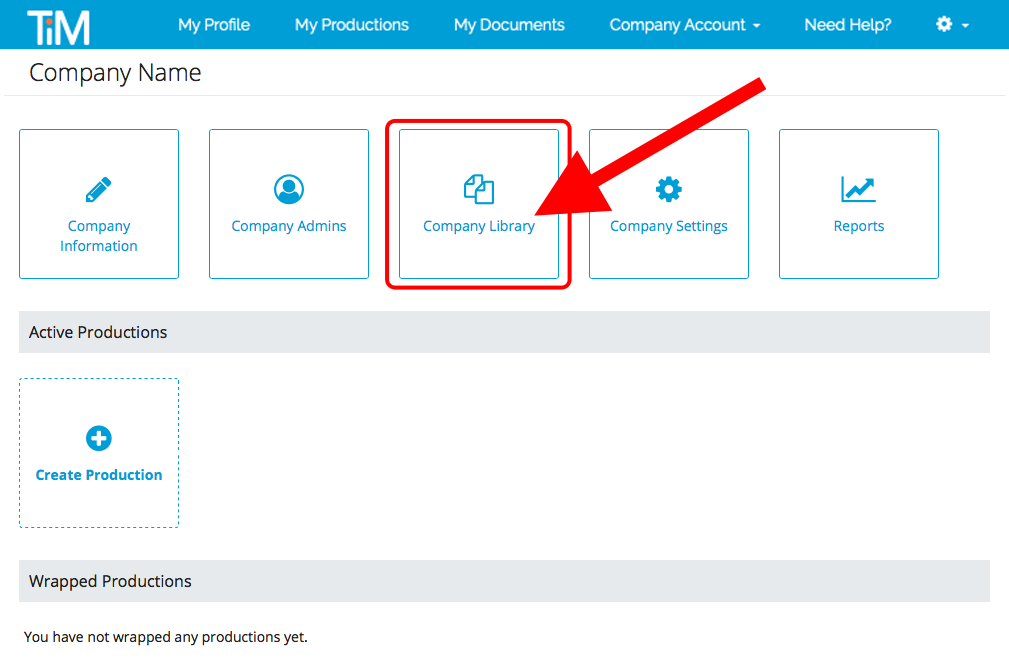 Under the "Company Forms" tab, click "Upload & Customize a PDF." This will take you to the Builder.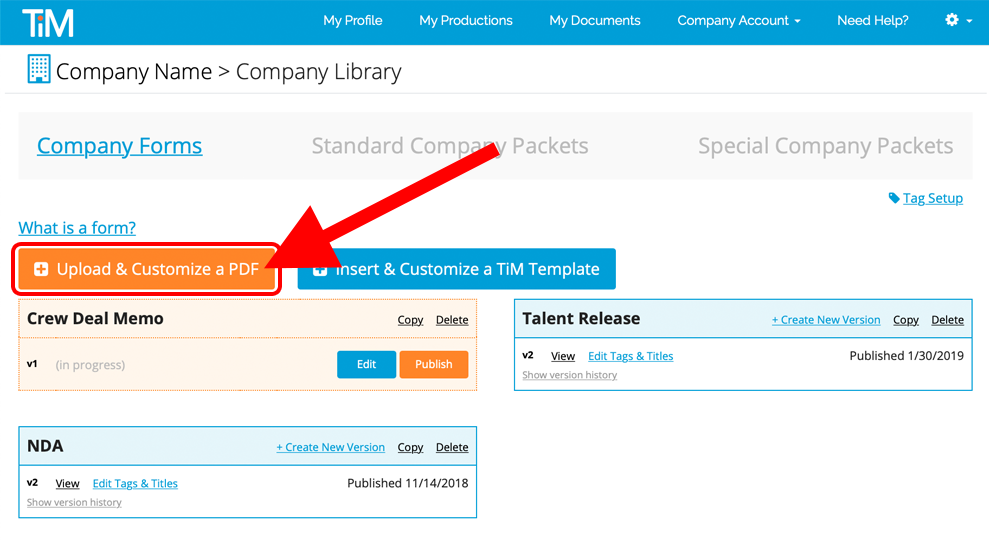 At the top left of the Builder, under "Packet Name" enter a name for this form. For example: "NDA" or "Crew Deal Memo." 

Next, within "Insert Form(s)." click "Choose File." This will open a pop up window where you can choose a PDF file to upload into this form. 
Click "Insert." You will see the page(s) of your PDF populate as thumbnails.

Step 3. Add Page Titles.
It is best practice to title each thumbnail so that employees and approvers can see, at-a-glance, what forms are included in a Packet. 
To add Titles:
Select a thumbnail (the selected thumbnail will have a turquoise outline). 
Enter a title for the page in the space provided.
Repeat for all pages of your Form.  
Pro Tip: Be sure to save often so as not to lose your work! (TiM will also remind you)

Step 3. Add Tags.
Tags are used to indicate where a page will need to be sent after it has been submitted by an employee. 
You can customize Tag Names from Tag Setup.
To add Tags:
Select a thumbnail. 
Select the checkbox next to the Tag you want to assign to this page. 
Repeat for any pages that need tags.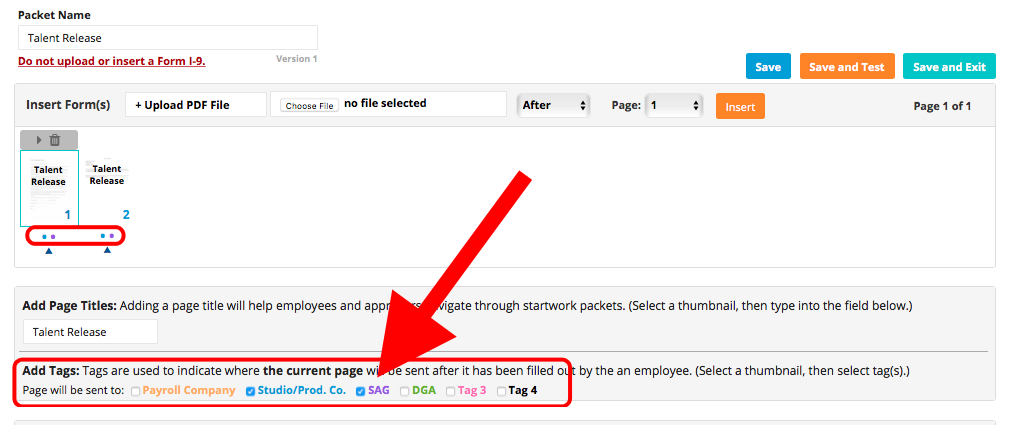 Step 4. Add Viewing Permissions.
Viewing Permissions can be used to determine if certain pages of a Form or Packet will be shown to or hidden from particular employees. This allows you to include a wider variety of forms in your Standard Packets, and saves you the trouble of creating entirely different packets for unique employees. 
For example, if you have a Talent Release Form that only needs to show to employees within the Cast Department, you can assign a "Department/Position" Viewing Permission to "Only share this page with: Cast Department (All Positions)," and include that Form in your Standard Packet(s). Viewing Permissions can also be configured based on a recipient's state of residence, overtime status, hire type (daily/weekly), union affiliation, and more!
To add Viewing Permissions:
Click "Add Viewing Permissions" to reveal a drop down.
Select a thumbnail. 
Find the Viewing Permission(s) you want to apply to this page, then choose "Only share this page with" or Hide this page from" and then select from the available criteria/options. 
Your selections will only be applied to the page corresponding to he selected thumbnail.
Repeat for each page you'd like to apply Viewing Permissions to.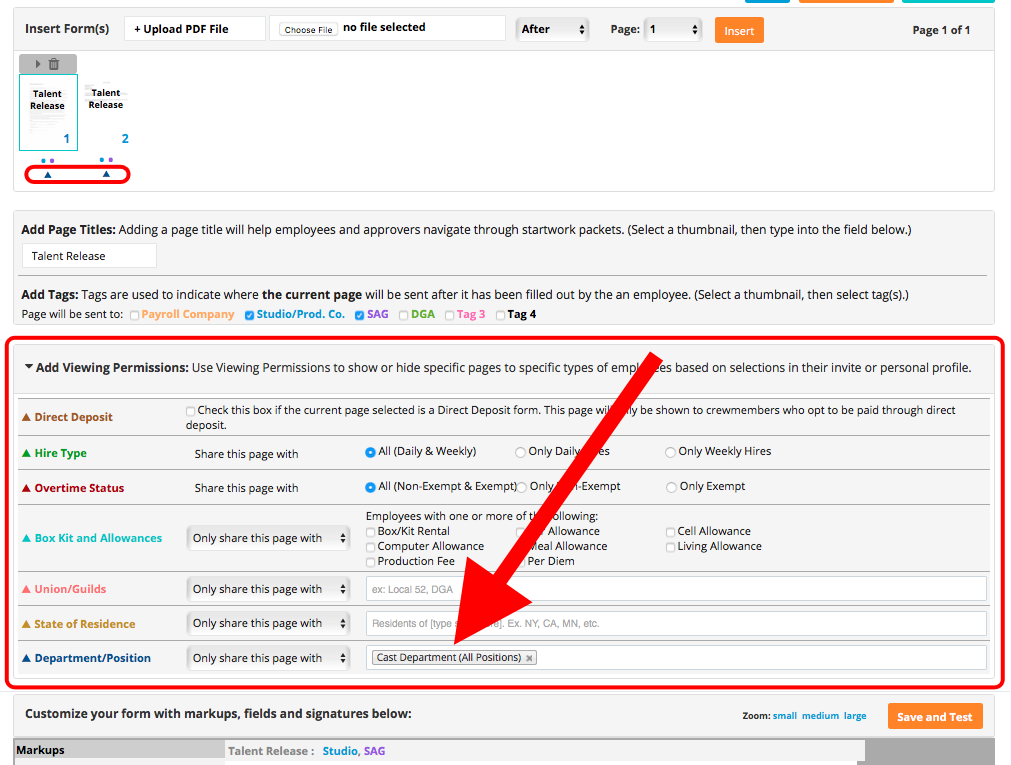 Step 5. Add TiM Smart Fields, Markups, and Signature Fields.
In TiM, Smart Fields are what tell the system where to place specific information within a document. TiM will only know to place information where a Smart Field exists. The information that populates into a Smart Field is unique to the recipient of the packet.
Smart Fields are named after the type of information that will be pre-populated into the field. For example, if you need an employee's Full Name to appear somewhere on your startform, apply the "Full Name" Smart Field. 
Markups can be used to add static text, make minor edits to PDFs, add interactive check boxes, or Text Entry fields. 
A person's Electronic Signature will populate wherever a corresponding Signature Field is placed. There are a variety of Signature Fields, each with their own color and place in the overall TiM workflow.
To add Smart Fields, Markups, and Signature Fields:
Click the "+" next to the Smart Field, Markup, or Signature Field. You will see the field appear on your document.
Click and drag to position the field.
NOTE: Pre-populated text will shrink to fit a field horizontally. Text does not wrap. We recommend making Smart Fields as wide as possible to ensure font size will not be shrunk too small.