So! You've activated your TiM Company Account and completed your Company Info. Maybe you've built some Company Forms within your Company Library. Great job! Now it's time to Create a Project!
Step 1. Create Production
From your Company dashboard, select "Create Production." This will take you to New Production Info.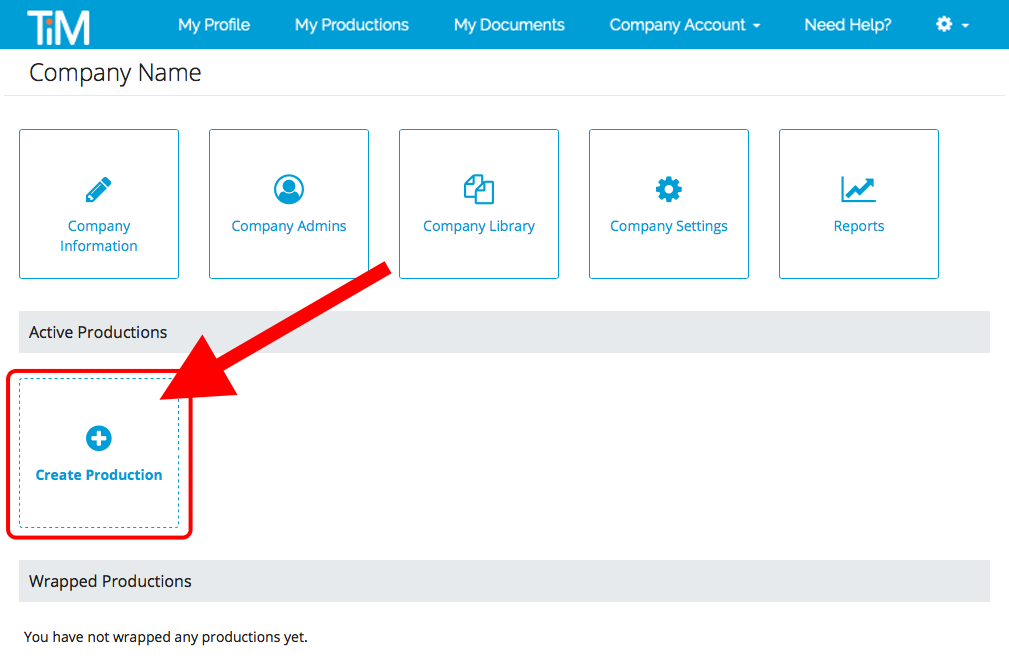 Step 2. Complete New Production Info
Within New Production Info, enter all the information for your Project.
NOTE: Every time you create a new Project in TiM, you will be prompted to complete Production Info for that Project. The information entered here should pertain to this particular Project, and will used by TiM to pre-populate onto the Startwork packets for this Project.
Production Information:
By default, the name of your TiM Company Account will appear in the Production Company name field. If a different company name should populate on Startwork packets, such as a subsidiary or LLC, simply delete the default company name and enter the production company name that should populate.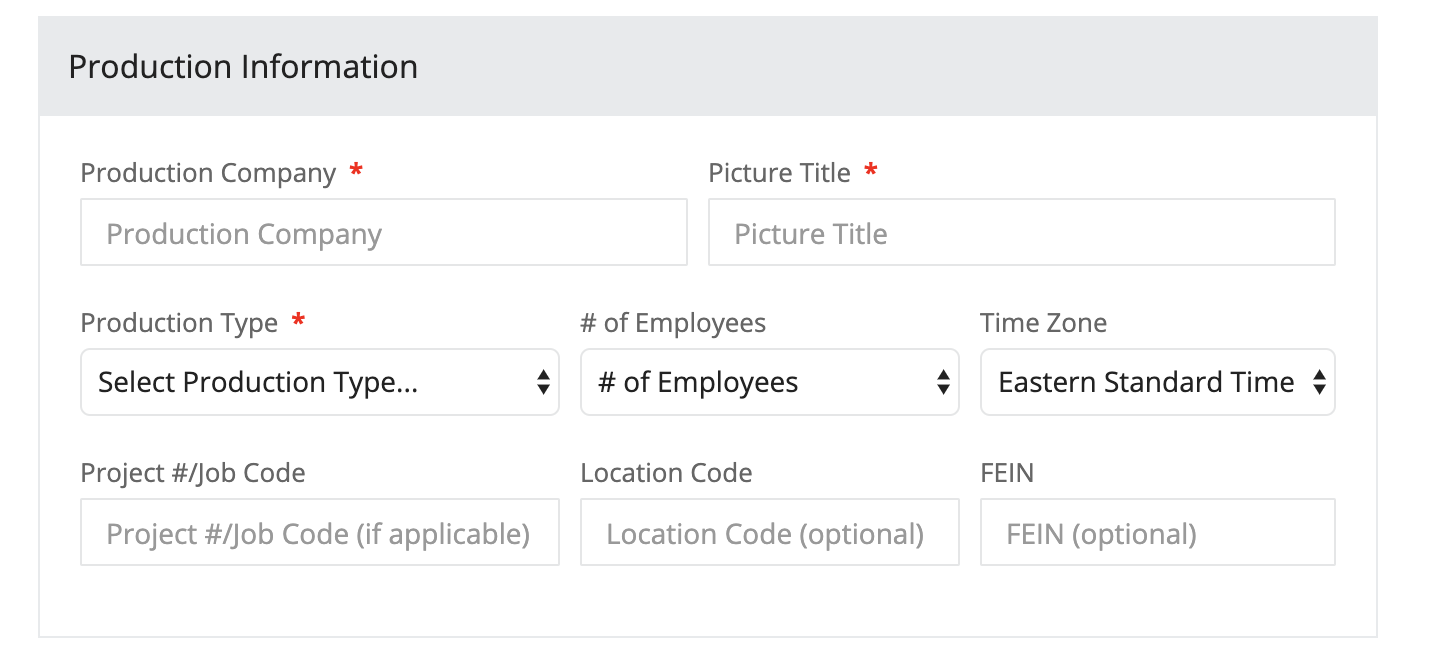 Work State(s):
TiM will use work state information for a number of functions, including streamlining the invite process.
Once you designate work states, you will notice another field, which asks: "Of the designated work states, which should appear by default on Invites?"
States listed in this second field will appear by default on all Invites created going forward. Of course, work states can be removed or changed on the fly within an Invite, providing flexibility to accommodate hires in unexpected places.

Production Office Address:
This should be the address of your Project's production office, not the address of the Production Company.
For example: The production office address for "Star Wars: A New Hope" would not be the address for LucasFilm.
Startwork Point Person:
A
Startwork Point Person
is someone on a production that you want to field questions regarding employee onboarding, such as: "When will I be paid?," "I think my rate is wrong," and "I'd like to be paid as a Loan-out on this production." More often than not, this person's name will also appear on the "prepared by" section of WTPA notices. In most cases, this is an Accountant, Producer, or Production Manager.
Keep in mind, the name and email address of the Startwork Point Person will be viewable to everyone connected to this Project.
Your Payroll Coordinator or Paymaster is not your Startwork Point Person.

Payroll Company / Employer of Record:
Pro Tip: Your Payroll Company/ Employer of Record information can be entered and stored within Company Information, so when you create a new Project, you can just select "Copy from Company Info" to complete this section!

Payroll Company Name:
This is the Payroll Company/EOR name that will appear throughout Startwork documents including on the WTPA notice(s) for CA and NY Projects.
NOTE for Media Services clients: Your Payroll Company name is "Media Services Payroll, LLC" for Non-Union hires and "Media Services Processing, LLC" for Union hires.
Payroll Coordinator or Paymaster Email Address:
Your Payroll Coordinator or Paymaster is the person provided by the Payroll Company who receives payroll-related Startwork documents and processes your production's payroll.
You can enter multiple email addresses into this field, by separating each email address with a comma (Ex: payroll1@hellotim.com, payroll2@hellotim.com).
These email addresses will be suggested to you when you send Startwork to payroll, making that process even quicker!
Pick Up Code for Payroll Coord/Paymaster (Non-Media Services clients only):
Your Payroll Coordinator or Paymaster will need to enter a Pick Up Code to download any Startwork sent from TiM, so be sure to enter your Pick Up Code and share it with any people expecting to download your Project's completed Startwork via TiM.
Your Pick Up Code can be anything you want, though we suggest not reusing the same Code from one Project to the next.
NOTE: Media Services clients do not need to use nor have access to this Pick Up Code functionality.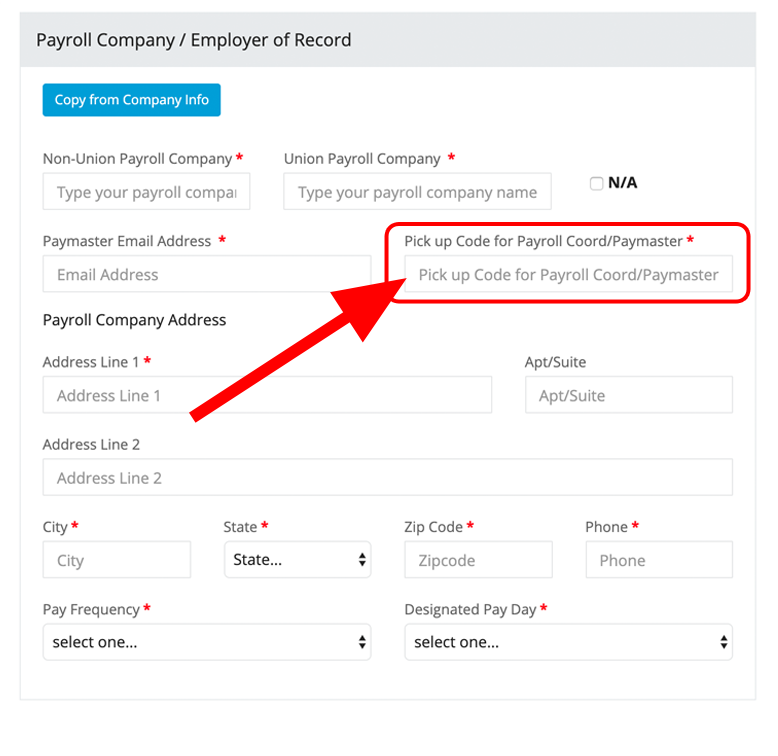 Payroll Company Address:
This is the address of your Payroll Company (not the Production Office address, and not the Production Company address).
NOTE: Media Services Clients can select "Insert Media Services NY Address" or "Insert Media Services CA Address" to quickly populate these fields.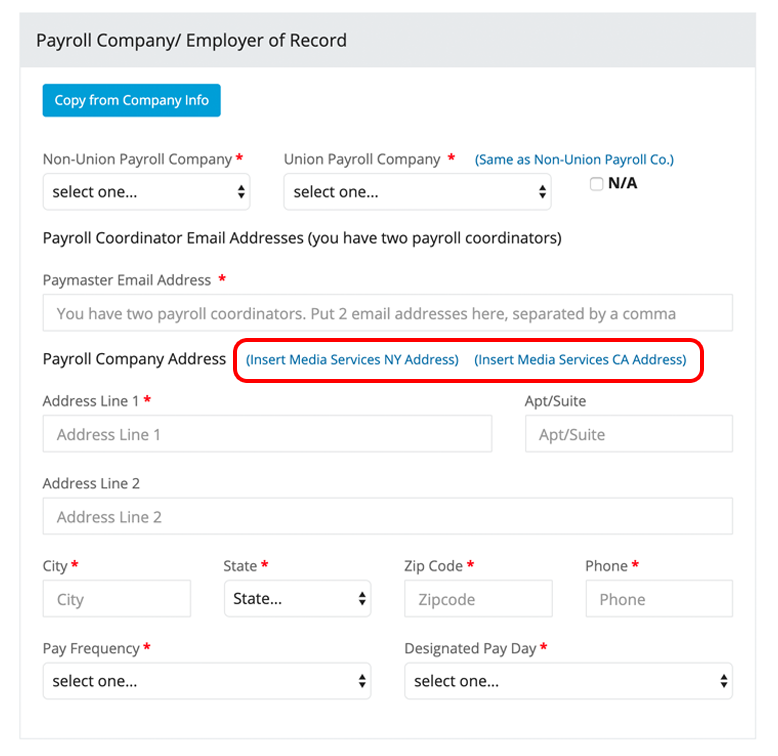 Pay Frequency & Designated Pay Day:
Select a Pay Frequency and Designated Pay Day from the drop downs. This information will be used to populate WTPA notices, for example.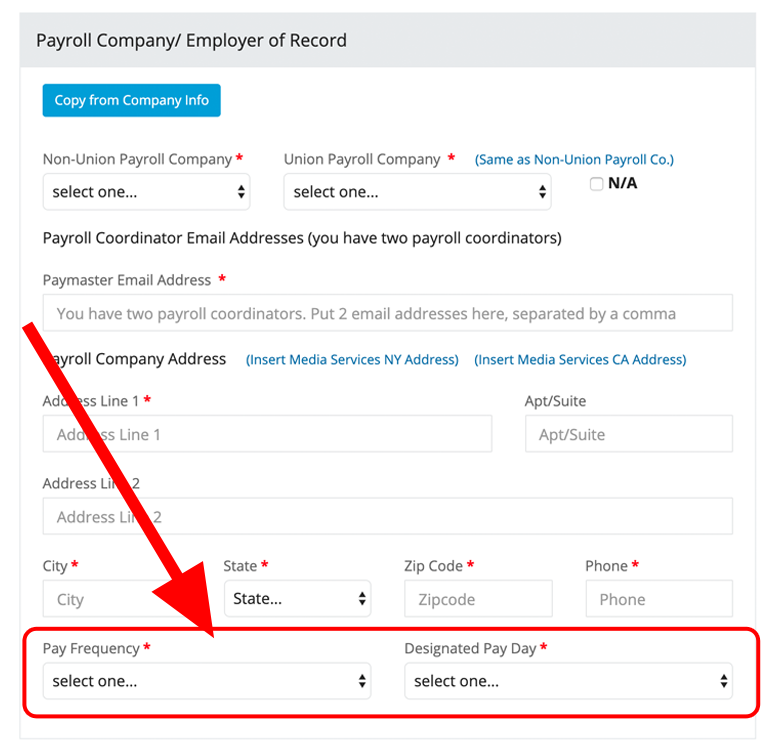 Once your Project's Production Info is complete, click "Save."
Read Next: How to set up a New Project after it's been created