When you're working as a freelance Crewmember, you need to fill out start paperwork a lot, possibly several times a week! Which means writing your name, address, phone number, tax information... over and over and over again. What a waste of time and energy!
With TiM (Time is Money), you enter your basic information once when you first sign up, then that info is stored within the system and used to populate your Startwork, so you never have to write your address over and over again!
You can use TiM to submit Startwork on any internet-connected device (instead of carrying around a rolled-up paper start packet in your back pocket all day)! 
Read on to learn what to expect when completing Startwork in TiM.
1. You'll get an email from TiM inviting you to join the Project:
When production invites you to submit Startwork for a Project in TiM, you will receive an email notification from donotreply@hellotim.com with a link to hellotim.com.
If you have any questions, you can contact the person who invited you to the Project, whose name and email address is included towards the bottom of the Invite.

FAQ: Production says they've invited me to the Project but I don't see the email. What's up?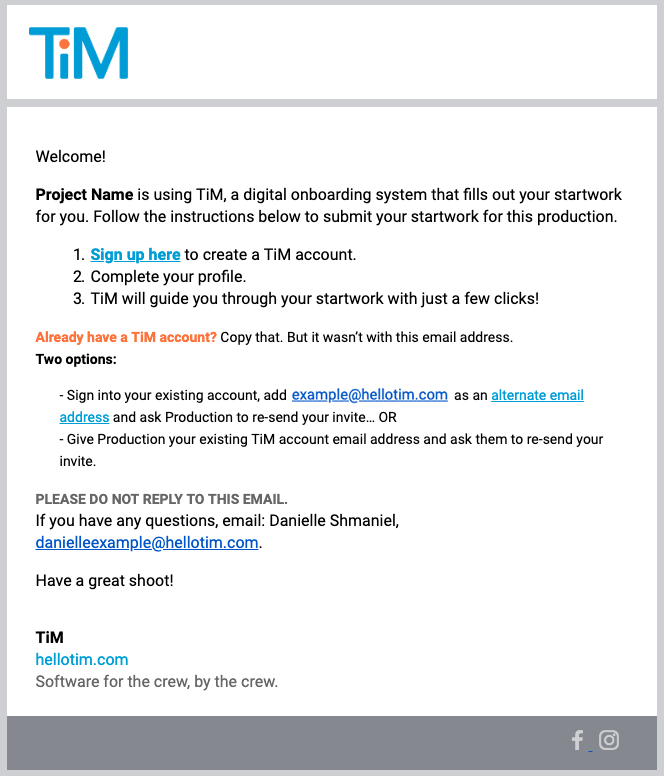 ​​​​​​​​
2. If you don't already have a TiM Account, Sign Up & create your TiM Profile!
(If you already have a TiM Account, go directly to hellotim.com and click "Login.")
Follow the link from your Invite to go to hellotim.com.

Enter your name, phone number, and create a password. 

Click "Sign Up."
FAQ: The system says my phone number is in use. What's up? 
FAQ: I forgot my password / I'm locked out of my Account. What do I do?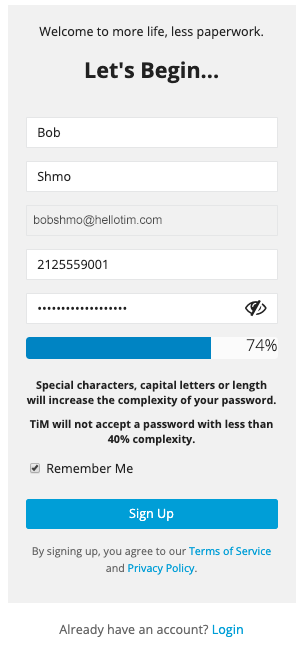 Once you sign up, TiM will prompt you to create a Profile and 

choose an Electronic Signature.
The information in your Profile will populate throughout your Startwork and will appear on the Crew Lists for any Project you're connected to in TiM. You can update your Profile at any time by clicking "My Profile" from the header bar. 
FAQ: What's the difference between my Profile and my Account Settings?
​​ 
3. Accept your Employment Details:
Once your TiM Profile is completed,  you will be directed to submit your Startwork.
First, you will see an outline of your Employment Details for the Project. These were selected by production.

If you think your Employment Details need adjustment, contact the person who invited you to the Project, whose information is listed at the top of your screen.

If these terms look complete and correct, click "Accept & Continue to Startwork."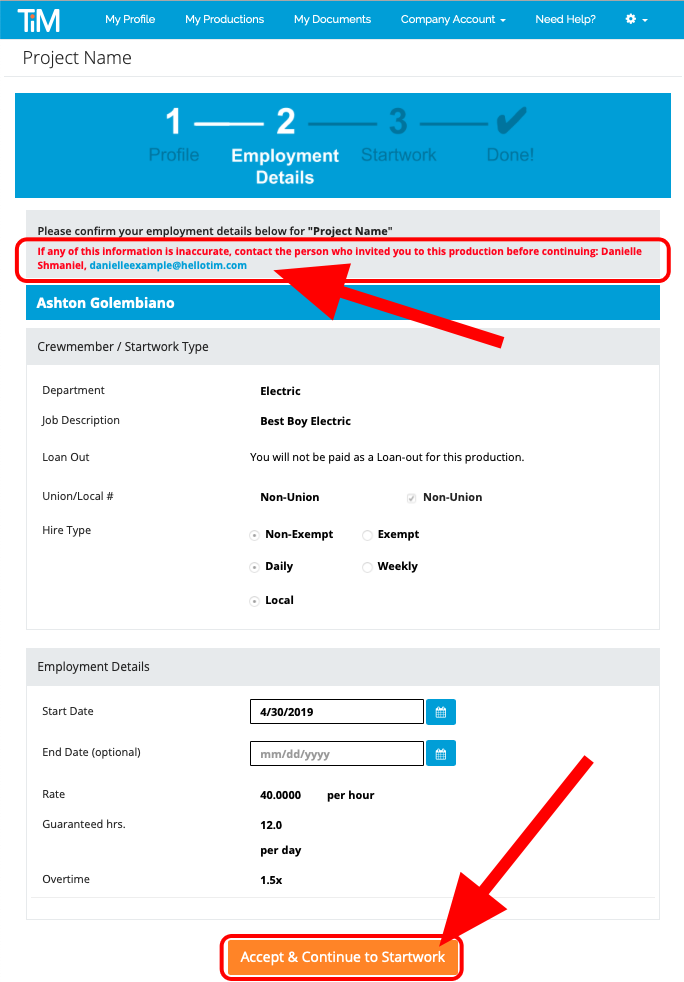 ​​ 

4. Enter your Personal Information (not stored long term in TiM): 
The next screen prompts you to enter your Social Security Number and choose what form of ID you'd like to show to have your I-9 verified.
You can also opt in to Direct Deposit on this screen, if that type of payment is offered by production.

If you opt in to Direct Deposit, you will need to enter your Bank Account information to allow TiM to populate your Direct Deposit form. 
NOTE: Sensitive information is not stored long-term in TiM. Therefore, you will be prompted to enter sensitive information each time you submit Startwork through TiM. Please contact support@hellotim.com if you have any questions regarding sensitive information in TiM.
Click "Continue to Startwork."
FAQ: I skipped opting in to Direct Deposit because I didn't have my Bank info on hand, and now I'd like to opt in. How do I do this?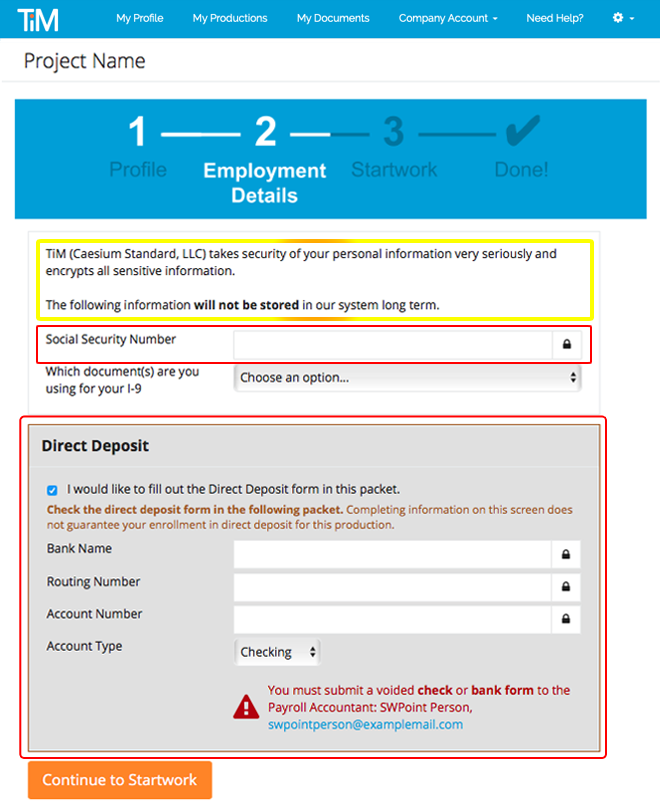 5. Submit your Form I-9 (if production sent you an I-9): 
If you do not see an I-9, production didn't send you one! Skip to Step 6. 
If production included an I-9 in your Startwork, you will be prompted to complete an I-9. 
NOTE: Per USCIS regulations the I-9 cannot be pre-populated. Instead, TiM will guide you and suggest information to allow you to complete the form as quickly and accurately as possible. For more information, see: I-9: The Unicorn Form
Start typing your last name into the last name field. You will notice that TiM suggests the rest of the information on the line.
Click into the leftmost field on the next line, the Address field. TiM again suggests the rest of the information on the line.
Proceed in this manner and allow TiM to guide you to complete the rest of the form.
Once all required fields are completed, click "Sign Here" to apply your signature and submit the I-9.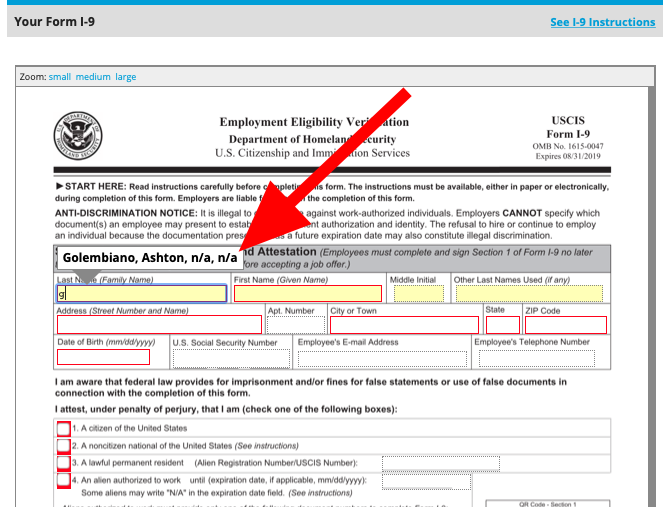 6. Submit the rest of your Startwork packet:
This is where the real magic of TiM comes into play! 
The pages of your Startwork are displayed as thumbnails.
Click on each thumbnail to view each page. 
Notice that TiM has filled out your Startwork for you, based on the information stored in your Profile!
The highlighted thumbnails indicate pages that require your signature or another type of interaction from you (a selection or required text entry).
TiM highly recommends clicking through each page of your packet to ensure you understand what is contained in the packet. 
If any of your personal information is incorrect, click "My Profile" at the top of the screen, edit your Profile and click "Save & continue to Startwork" to return to your Startwork. Your information will be updated on your Startwork in real time. 
Depending on the Startwork submission settings determined by your production, you can either:
Click "Sign All Pages & Submit" to apply your electronic signature everywhere it needs to go, all in one click!

If you see "Sign All Pages & Submit" grayed out, it means production wants you to manually sign each page.

Select each highlighted thumbnail and click "Sign Here" to manually place your electronic signature into each Signature Field.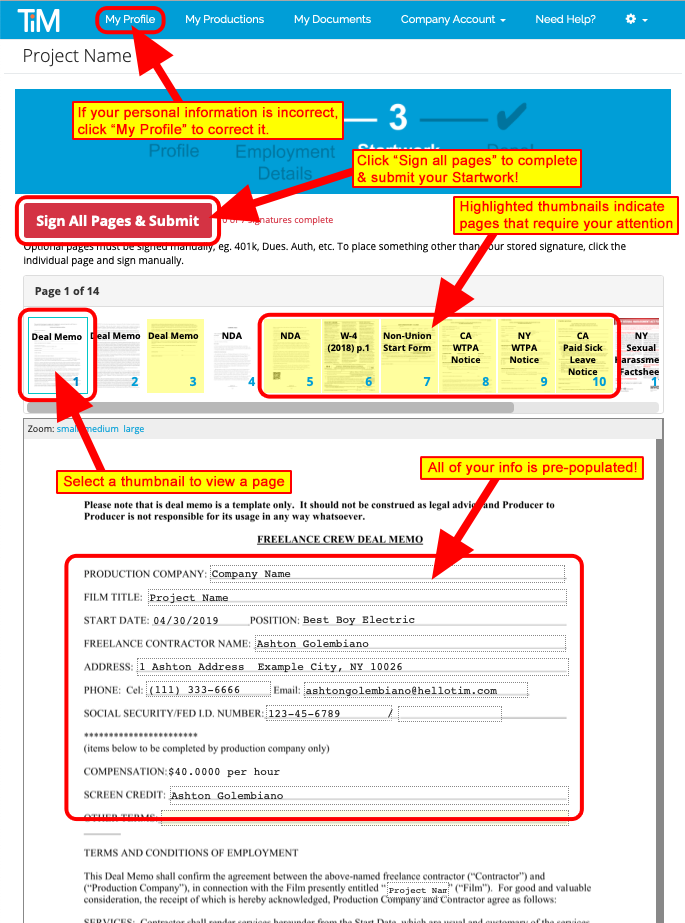 7. Submit Attachments, if necessary.
Right after you submit your Startwork, TiM will ask you, "Are there any documents you would like to submit with this packet?" 
If you do not need to submit Attachments, click "Continue" and skip to Step 8.
If you do need to submit Attachments, such as a Box/Kit Rental Inventory or Articles of Incorporation:
Click "Select a category to upload something new..."
Select a category to file this document in TiM.
Click "Choose File."
Select the file from your device. 
Click "Continue."
If you have Attachments already uploaded to My Documents:
Select the checkboxes next to the file name(s).
Click "Continue."
TiM will send your documents to production!
For more information, see: How to upload and attach documents to your Startwork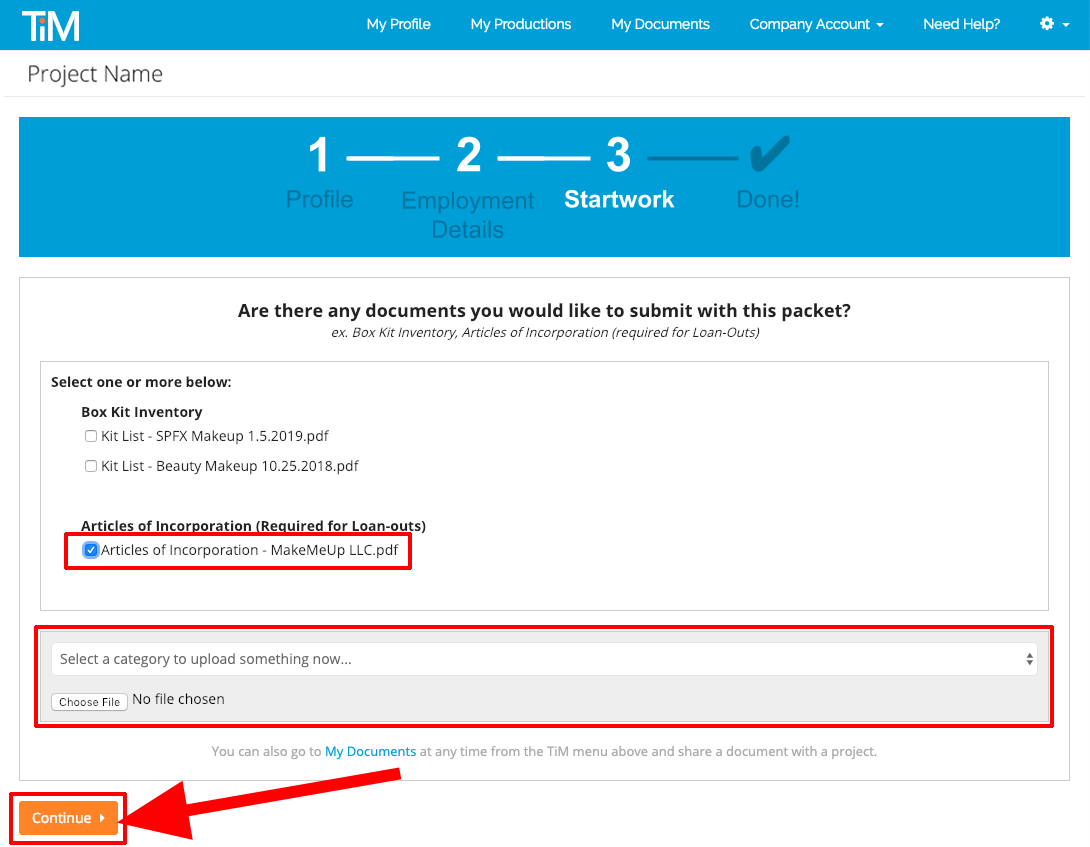 8. Done!
Once you submit your packet, you will see the "Done!" screen, which displays a list of people on the crew who are able to verify your I-9.
You will also see a summary of your Permissions on this Project, ie: what you are to see and access in TiM for this Project.
Click "Got it!" to return to your Project dashboard.
NOTE: Your Startwork can be bounced back to you by production after your initial submission. In fact, TiM forces production to bounce your Startwork back to you if your Startwork needs revision for any reason (for example, your terms of employment change or if there was a mistake with the forms in your original packet). In this way, TiM maintains transparency between employer and employee so you are always kept in the loop about your terms of employment.
TiM User Experience 101:
Use the buttons along the header of your screen to navigate within your TiM Account.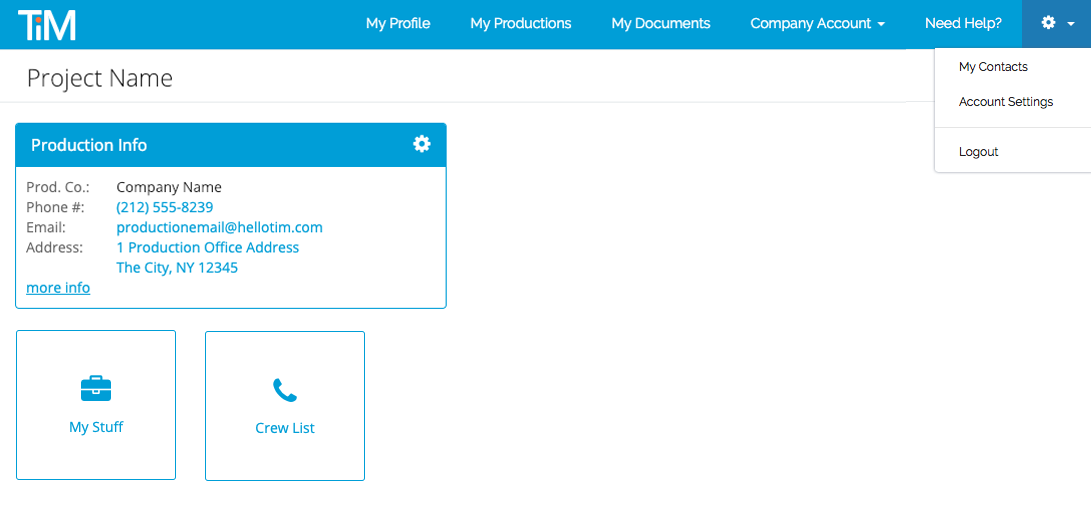 My Profile will allow you to view or edit the personal information that appears on your Startwork. This includes your name, mailing address, emergency contact info, Tax information, etc.
My Productions will display a list of all the Projects you're connected to in TIM. Click on the Project name to access the Project.
My Documents is where you can upload and store documents that you might want to Attach to your Startwork, for example a Box Kit Inventory list or your Articles of Incorporation. 
Company Account will lead you to the Company-level dashboards for any TiM Company Accounts you are connected to. TiM Company Accounts used by production companies to manage Startwork across one or more Projects.
Need Help? will take you to the TiM Help Center where you can find answers to FAQs and instructions for common actions in TiM. 
If you can't find the answer you're looking for, please contact TiM Support:

email: support@hellotim.com 
call: (202)TIM-CHAT (202-846-2428)
Regular reply hours are 9AM-9:30PM Eastern / 6AM-6:30PM Pacific
The Gear Icon at the top right of your screen will lead you to My Contacts and Account Settings:
My Contacts is your own private Crew List! It shows a list of every person you've ever invited to a Project, and their contact information (if they have chosen to publicly provide that information). 
Account Settings is where you can manage your login email address, Alternate Email Addresses, and password. The information in your Account Settings does not affect Startwork or Crew Lists. Your Primary Email Address is the address you use to login to TiM. Alternate Email Addresses are other email addresses you use, that can be connected to your TiM Account so any messages sent to those addresses will all funnel to your TiM Account.
Your Project dashboard is where you can access information related to a particular Project. The Permissions set for you by production determine what buttons you are able to see on your Project dashboard.
My Stuff is where you can view or download your completed Startwork documents after they are Fully Approved by production. You can always view your Employment Details, regardless if your Startwork has been Fully Approved yet. 
The Production Info box displays basic Production Company information. Click on more info to access your Production Contact and Employer of Record information. Any production-related questions should be directed to your Production Contact.